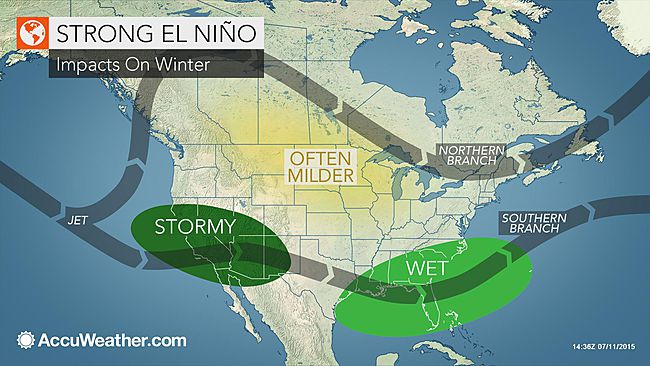 The latest El Niño arrival has been a strange one indeed. First it refused to develop, then it came on so weak that climatologists struggled with how (and whether) to classify it. Now, it's coming on so strong it might end up being the strongest El Niño event in the past 50 years.
That's because El Niño has strengthened steadily during the past month, approaching "strong category" strength already, according to AccuWeather senior meteorologist Brett Anderson. And El Niño rarely peaks in summertime months, he says.
"Confidence continues to grow that this El Niño will be one of the stronger El Niños over the past 50 years," Anderson says. "El Niño typically reaches its peak during the December through February period."
Currently, NOAA is predicting a 90% chance that El Niño will stay in the Northern Hemisphere at least through winter 2015-16, and there's an 80% chance it could last through early spring of 2016.
That is a major factor in NOAA's three-month outlook that covers July-September 2015. This latest seasonal outlook suggests above-normal precipitation through the western Corn Belt into the Great Plains, with below-normal precipitation across much of the Southeast and Mid-Atlantic states.
Seasonal temperature outlooks for this timeframe paints two distinct pictures. The East and West Coast may experience above-normal temperatures for July-September 2015. Meantime, a large swatch of the country's interior, including most of Nebraska, Kansas, Oklahoma, Texas, Iowa, Missouri, Arkansas and Illinois, have a likelihood of lower-than-normal temperatures during this period.
The strongest El Niño on record in the past 100 years occurred in 1997-98, Anderson says. That event brought plentiful rains to California during the winter months, peaking in February 1998. El Niño typically pushes more storms into California due to corresponding jet stream patterns.
"A strong El Niño could be good news for the extreme drought in California," Anderson says, adding that a stormy winter would also bring heightened risk of mudslides and flash floods.
For more weather news, forecasts and more than a dozen ag-specific weather maps, visit www.AgWeb.com/weather.