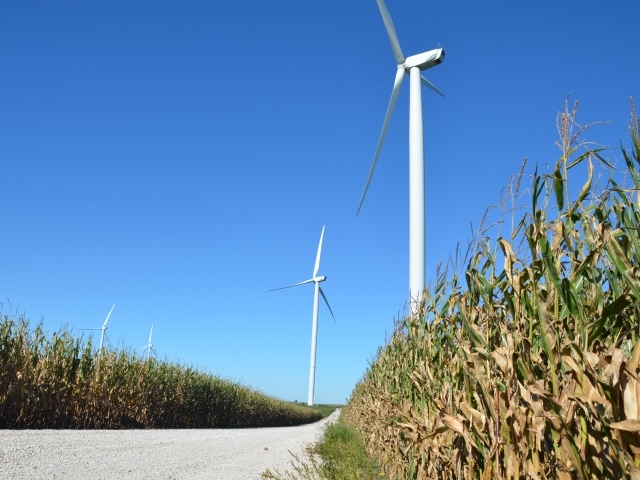 Wind turbines have a bit of a reputation due to their role in killing local birds. But new research from Purdue University and the U.S. Geological Survey suggests that wind turbines could have contributed to the deaths of eagles that had flown hundreds of miles to meet their deaths.
The researchers looked at DNA from feathers of golden eagles killed at the Altamont Pass Wind Resource (APWRA) in northern California, which is home to one of the oldest, largest wind farms in the country. The research team determined that 75% of the birds belonged to the local population and the remaining 25% had migrated into the area.
The wind turbines can catch the eagles off-guard as they patrol for squirrels and other prey, explains J. Andrew DeWoody, Purdue professor of genetics.
"As they soar, these eagles are often looking straight down, and they fail to see the rapidly moving turbine blades," he says. "They get hit by the blades, and carcasses are found on the ground under the turbines."
There are currently dozens of large wind farms in the U.S. with many more being proposed. Farmland and other rural locations are popular homes for them – one company alone, United Wind, hopes to reach out to as many as 10,000 farmers to spin this alternative energy source over the next 20 years.
Researchers estimate up to 328,000 birds and 1.6 million bats are killed annually worldwide at these facilities. Co-author Todd Katzner, a wildlife biologist with USGS, says their findings could affect environmental assessments for new wind turbine construction.
"If you only consider local birds in an environmental assessment, you're not really evaluating the effect that facility may have on the entire population," he says.
DeWoody says wind energy generators can receive permits that allow a number of unintended bird deaths before they receive fines. If a large percentage of birds killed are actually migrating from neighboring states, that could "muddy the management waters," he says.
The researchers published their study findings in the journal Conservation Biology.