Unusually dry subsoil conditions are casting a pall on spring planting in Iowa, despite the snow that's blanketed much of the nation's No. 1 corn state this month.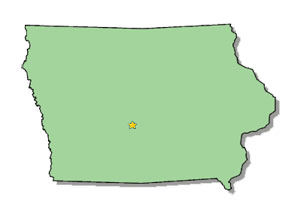 Much of Iowa's ground is frozen, preventing snow and other precipitation from penetrating the soil, says Andy Lenssen, cropping systems agronomist with Iowa State University. And replenished soil moisture, down 5" and more, is what the state's corn ground needs following last year's severe drought.
"Pre-planting conditions are nothing like last year," says Lenssen.
In fact, subsoil moisture levels are worse than a year ago, according to Roger Elmore, Extension corn agronomist at Iowa State University. So far, the state isn't seeing the normal subsoil recharge that comes with winter and spring precipitation. That has growers across the state worried.
"At planting, we look for 10" of subsoil moisture, with 5" of it a 'savings account' for the crop," Elmore says. "When we go into spring without that 'down payment,' when we have that deficit in our soil moisture, growers are going to need more skills than normal to produce a good corn crop."
Mid-March's run-off, standing water and flooding mean the state's corn planting probably won't begin until mid to late April, the two agronomists say. While that's a normal planting start, it's later than last year, when conditions allowed some planters to hit Iowa's corn fields in March.
Iowa, which leads the nation in corn acreage, planted 14.6 million acres of the yellow-eared crop in 2012. That was up half a million acres from the year before. Hit hard by the drought, Iowa corn production fell to 1.87 billion bushels last year, down 4 million bushels from 2011.
Will Iowa corn growers match or exceed last year's acreage or production? Elmore isn't so sure.
"So far, dry conditions don't bode well for the year as a whole," the Extension agronomist says. "I expect this year's corn acreage number to be stable or even less."
Lenssen is more optimistic. "I've heard some projections that Iowa's corn acreage will be up this year," he says. "The [September 2013] price of corn is pretty good at $5.50-$5.80 a bushel, and price drives a lot of planting decisions."
Iowa's other major crop, soybeans, will begin planting once farmers get their corn well underway. The state's soybean acreage is likely to exceed last year's 8.8 million acres, Lenssen says, boosted by strong prices now in the range of $14.25 per bu. But there's another soybean acreage driver.
"We've been experiencing more resistance in corn to the Western corn rootworm," says Lenssen. "The best way to deal with that is to plant more soybeans because that crop is not a host" for the pest.
Lenssen also thinks 2013 will see additional corn and soybean acreage as more land comes out of the Conservation Reserve Program (CRP). "People are ending their CRP contracts because they can make more money renting out their CRP and pasture land for corn and soybean production," Lenssen says.
Still, many remain concerned about the lack of recharge in subsoil moisture across Iowa's farmland. For a state that usually receives enough rain to support healthy corn production in its deep, rich soils, starting the season with thirsty ground is worrisome, especially if a second year of dryness unfolds.
"We'll be more dependent on more timely rainfall," Lenssen says. "Two inches of rain won't do it."
Read the acreage predictions and considerations for additional states:
---