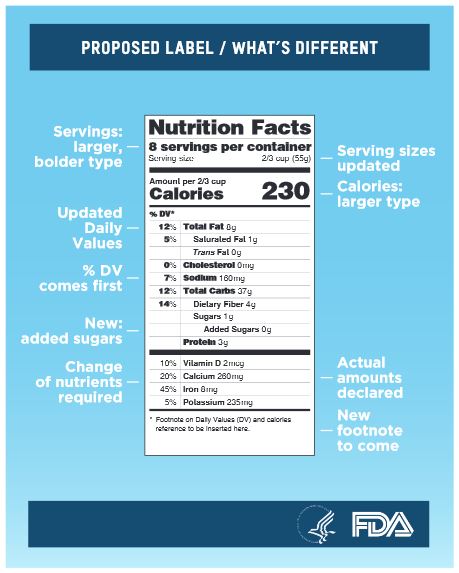 Calorie counts in bold type and the added sugars in a product will be part of new food labels proposed to help U.S. consumers become healthier eaters.
The labels also will provide new serving sizes, such as 1 cup instead of a half-cup for ice cream, that more accurately reflect the way people eat, according to the proposed rules released today by the Food and Drug Administration. While the food industry introduced a voluntary front-of-package labeling system in 2011, the rules proposed today would be the first required changes to the labels in more than 20 years.
The government is largely playing catch-up as the nation's eating habits, food trends and advancements in obesity research have evolved since 1993, when labels bearing basic calorie counts and fat grams became standard. The changes are meant to help curtail the obesity epidemic and prevent chronic illnesses such as heart disease and diabetes.
"Nobody claims that information all by itself will solve the obesity problem," Michael Taylor, the FDA's deputy commissioner for foods and veterinary medicine, said today on a conference call with reporters. "There is research that lots of people use this label. The label itself influences choices for the better."
$2 Billion Cost
The FDA's draft guidance on the labels will be open to public comment for 90 days. The final rules are expected in the next year and companies then will have two years to update their packaging. The changes are expected to cost $2 billion, though the government estimates they may generate health benefits of $20 billion to $30 billion to consumers over 20 years.
"It is critical that any changes are based on the most current and reliable science," Pamela Bailey, chief executive officer of the Grocery Manufacturer's Association, said in a statement today. "Equally as important is ensuring that any changes ultimately serve to inform, and not confuse, consumers."
The FDA has been talking with the food industry about revising the labels for about a decade, Taylor said.
About 78 million adults, or about one-third of the U.S. population, are obese as are 17 percent of children and teenagers younger than 19. Michelle Obama has focused attention on childhood obesity since her husband entered the White House, urging families to eat healthier foods and exercise more. The obesity rate for 2- to 5-year-olds fell almost by half to 14 percent in 2011-2012 from a decade earlier, the Centers for Disease Control and Prevention said in a Feb. 25 report.
Easily Understood
"Our guiding principle here is very simple: that you as a parent and a consumer should be able to walk into your local grocery store, pick up an item off the shelf, and be able to tell whether it's good for your family," first lady Michelle Obama said in a statement. "So this is a big deal, and it's going to make a big difference for families all across this country."
The new labels are another step in the effort by federal officials to help people improve their diets. Information about added sugars is a new requirement. Research over the last decade has shown that added sugars should be avoided: People who eat them are more likely to ingest less nutrient-rich food and consume more calories.
The FDA proposal also reduces the daily recommendation on sodium to 2,300 milligrams from 2,400, which the Center for Science in the Public Interest said isn't enough. The daily value should be reduced to 1,500 milligrams, the nonprofit advocacy group said.
"Americans average about 4,000 milligrams of sodium per day," the Washington-based advocacy group said in a statement today. "That level is causing about 100,000 more deaths per year from heart attacks and strokes than would occur if people were consuming 2,000 milligrams per day."
Vitamin Changes
The new labels will display the number of servings per container in bold type, and calories in a larger, bold font. Vitamin D and potassium will replace vitamin C and vitamin A as nutrients. FDA officials said Americans don't get enough of either nutrient with vitamin D aiding bone health and potassium helping reduce blood pressure. Also, the recommended daily amounts of dietary fiber and vitamin D have changed.
Calories from fat will be removed from the label, though total fat, saturated fat and trans fat still must be listed. Studies have shown that the type of fat consumed matters more than the amount.
Serving Sizes
FDA officials offered a few examples of the serving size changes being proposed. A single serving of soda will increase to 12 ounces from 8 ounces so people are better-informed about how many calories they're drinking.
Not all of the serving sizes will increase. Yogurt will be reduced to 6 ounces a serving from 8 ounces. Also, any packaged food ordinarily consumed in one sitting, such as a 20-ounce bottle of soda, will be declared one serving. Anything larger that may be consumed in one or more sittings will be labeled explaining nutrition both per serving and per package.
"There might be some awkwardness in serving size," Jim Marks, senior vice president at the Robert Wood Johnson Foundation, said in a telephone interview. "The recommendations would have a 12-ounce soft drink as a single serving, and a 20- ounce soft drink also as a single serving, so with a 2 liter bottle, how many servings is that?"
The proposed nutritional labels affect all packaged foods except meat, poultry and processed egg products, which are regulated by the Department of Agriculture rather than the FDA.
"To remain relevant, the FDA's newly proposed Nutrition Facts label incorporates the latest in nutrition science as more has been learned about the connection between what we eat and the development of serious chronic diseases impacting millions of Americans," FDA Commissioner Margaret Hamburg said in a statement.
 
More Information