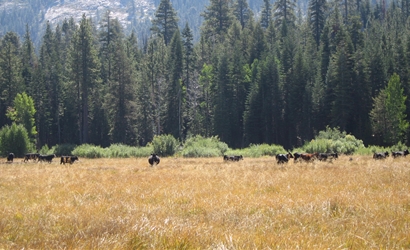 After an uncharacteristically brutal winter, spring in Arkansas is bringing green growth to the state. If cattle and other livestock have grazed through almost all forage on pasture land, there is a resource available for the upcoming summer months.
Summer annuals such as pearl millet and sorghum sudan can produce forage in a short time during June, July and August. These forages provide a way to close gaps between seasons when the availability of tall fescue becomes dormant in the summer months.
"Summer annuals become very productive by responding to high summer temperatures and moisture," said Dirk Philipp, assistant professor for the University of Arkansas System Division of Agriculture. "When moisture is short, these annuals are more drought resistant than the perennial forages. They can be grazed or harvested for hay or silage, and they work well in double-crop situations after small grain harvest."
According to Philipp, grazing farms can devote specific areas to some summer annuals to produce more forage during the summer slump period when cool season grasses are less productive. Other advantages of summer annuals include efficient use of water, fast growth and high yields, use in grazing or haying, and responsive to nitrogen fertilizer.
To get a good and reliable stand, follow these tips:
A well-prepared and settled seedbed is mandatory.
Select a field that is level, if the emphasis is hay, and has well-draining soils.
Consider a field that can be used long-term for summer annual crops in rotation with winter annual crops -- preferably legumes to add plant organic matter -- and have grazing available early in the year.
Disk the field to break up the sod, control weeds and turn under organic matter.
Firm up the seedbed by rolling or culti-packing. This is important because if the soil is too loose, the seed can be covered with too much soil and have problems emerging. Follow with culti-packing or rolling to firm up seedbed.
Let the seedbed settle a few days, and try to work around heavy rains or thunderstorms as they can wash soil away. This may expose some seeds while covering up others with too much soil.
Fertilize strictly according to soil test reports; over-fertilization can lead to high nitrate levels in pearl millet.
Seeding rates for tillage-based establishment are 10-15 pounds per acres for pearl millet and 15-20 pounds per acre for sorghum sudan

Source: University of Arkansas Cooperative Extension