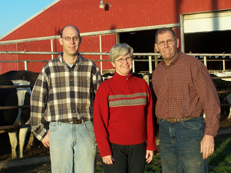 Clint, Janice and Stanley Burkholder
Chambersburg, Pa
Making the forages at Burk-Lea Farms is very critical, from finding the right weather (enough drying time, get crop to 68% moisture) to staying ahead of the weevil to harvesting at the right maturity.
Usually May 10 is the trigger date for the first cutting of alfalfa. We then harvest every 30 days from first cutting. Most stands of hay are 100% alfalfa. When mowing the crop, it is wide-swath mowed and then 60" is merged into a windrow, endeavoring to make "hay in a day." Corn silage is normally harvested late August; the 68% moisture is the key to the beginning date of harvest.
 
Our haylage is stored in 35'-wide bunker silos and leveled with a loader tractor. The corn silage is stored in 60'-wide bunker silos and leveled with a front-mounted Degelman blade. Both crops are covered with 5.5 mm plastic and held down with tires. The tires are virtually touching each other to give tight coverage. We are not believers in any innoculant for haylage or corn silage.  We have tried innoculants in past years but have difficulty in seeing any return on the investment.
 
We feel that "quick harvest" in haylage and corn silage crops is critical for good milk production. This reduces the need for purchased feeds, which are a major cost. We are fortunate to be able to raise all forages or purchase some out of the field from local farmers. We purchase grass hay for our dry cows. Soybean meal and whole cottonseed are the commodities we purchase. We purchase a concentrate containing supplements. With the increase of prices of commodities and endeavoring to "stretch" our own corn, we have increased the amount of molasses in our ration. The price of molasses has now also gone up in price.
The basic overview of our ration per cow/per day is:
| | |
| --- | --- |
| Corn Silage | 65 lbs. |
| Alfalfa Haylage | 31 lbs. |
| Straw | 1 lb. |
| Cornmeal  | 1.5 lbs. |
| Cottonseed | 4 lbs. |
| Molasses       | l.75 lbs. |
| Soybean meal    | 2.65 lbs. |
| High-Moisture Corn   | 13 lbs. |
| Burk-Lea Conc.  | 7.51 lbs. |
Our nutritional package is not unique. We harvest the forages as fast as possible, "pack, pack, pack," and cover the bunkers quickly. Commodities have been contracted, which has been beneficial over the past years. We are, however, embarking on a new era and are uncertain when and how to purchase commodities in the future.
 
Do challenges make us better managers?
Burkholders' May prices

| | |
| --- | --- |
| Milk price (3.86 bf, 3.04 prt)   | $18.71/cwt.(mailbox) |
| Cull cows  | $48/cwt. |
| Springing heifers | $2000/head |
| Alfalfa hay (spot) | $250/ton |
| Cottonseed  (contracted) | $181/ton |
| Ground corn  (local quote) |  $261/ton |
---