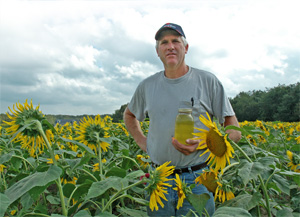 Homemade oil helps fuel and feed this farm all year long
Sunflowers are a happy crop. When Mark Holst looks at all those sunny faces, he smiles too, because they are fueling his equipment and feeding his cattle.

The Augusta, Ill., farmer got into the biodiesel business when his son Brady took the topic on as a high school science fair project—testing the viscosity, mileage, energy production and emissions of sunflower fuel compared with B10, B20, B100, diesel and gasoline. Another son, Luke, researched vegetable oils as part of his graduate studies at Western Illinois University.

One look at the economics and Dad was hooked. The school projects soon became a side enterprise for the farm.

"It's all about being sustainable," Holst says. "We wanted to reduce our energy dependence, and we liked the idea of producing a product that we could use as both a fuel and feed." Last year, Holst Biofuels produced enough biodiesel from 200 acres of sunflowers to fuel all their farming operations.

To get things moving, Holst worked with Mycogen Seeds sales representative Dave Coorts to find a high-oil sunflower variety that was suitable for double-cropping after wheat.

"We can make double-crop soybeans work one out of five years in this area of western Illinois," Holst says. "I can plant double-crop sunflowers as late as the second week of July."

Biodiesel was a new experience for Coorts, so he had to do some studying to help find the right sunflower variety. What's worked best is a high-oleic sunflower designed for the Red River Valley region. "It has a small head [4" to 6" across] and not as much fodder compared to garden-variety sunflowers, so it puts most of its energy into making oil," Coorts says. Switching to this variety increased the amount of biofuel per bushel from 1.5 gal. to 2 gal.
Farm fuel. Holst says sunflowers work better than soybeans because the oil is easier to extract. In his on-farm refinery are two dry grind presses from China—each capable of processing
6 tons of sunflower seeds per day.

The sunflower seeds enter the press at about 60% oil and exit crushed containing 8% oil and 28% protein. The meal comes off the press at 110°F to 120°F and resembles a flat black taco chip. One bushel of sunflowers weighs 32 lb., and about half of that remains in meal after the crush.

"Sunflower meal is often found in creep livestock feeds and is palatable," Holst says. The leftover meal is mixed with silage for the family's 100-head fat cattle operation and fed free-choice to cows and heifers on grass.

Extracted oil goes into a series of settlement tanks, is filtered twice and run through a centrifuge to remove any extraneous particles before blending with gasoline. A ratio of 6 gal. of sunflower oil to 1 gal. of non-ethanol gasoline brings the mixture to the viscosity of diesel fuel. In the summer, Holst found, a 1:8 blend works best.

"Oil is thicker in the winter, so the ratio needs to be slightly lower to get the best blend," he says.
"In some older equipment, we have been able to use equal parts oil and diesel. We have an older Dodge truck that can burn 100% sun oil," he adds.

Holst says sunflower oil costs $120 per acre to produce. Based on average yields, he extracts 75 gal. to 100 gal. of oil per acre. In 2010, the farm used 6,000 gal. to 8,000 gal. of biofuel.
"It's taken a while to figure it out," Holst says. "Mostly there were little things—like setting the combine so the seeds didn't blow out the back.

"Today, birds are our biggest problem. The yellow finches and blackbirds love to peck out sunflower seeds. Maybe I'm in the birdseed business and don't know it."