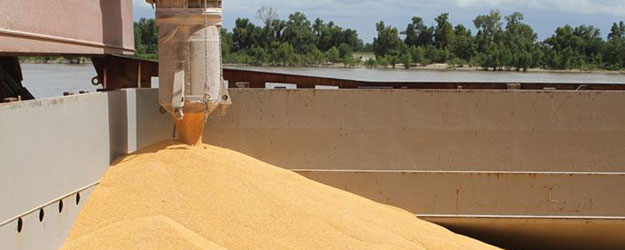 With the prospect of a record-breaking corn crop possible for 2014, every ag economist and commodities marketer is busy gazing into his or her crystal ball trying to determine where prices will land. Darrel Good, University of Illinois ag economist, suggests the best place to predict the future is the past. He starts by looking at what price of corn is consistent with a more normal level of year-ending stocks.
"The average price from 2006-07 through 2009-10 was $3.71," he says. "The average price of 2005-06 was $2.00 per bushel, which was 83% of the average for the period from 1973-74 through 2005-06. We have previously argued that the average price for the new era of prices that began in 2006-07 would be about $4.60, so that $2.00 in 2005-06 is equivalent to $3.82 in the current area. An average price in the year ahead near $3.75 would be consistent with similar supply-consumption scenarios of the recent past."
The bigger question is just how big the 2014 U.S. corn crop ends up being, he adds. If U.S. farmers chalk up a 170 bu. per acre average yield, that crop would total 13.25 billion bushels, which is about 390 bushels larger than current USDA projections.
"The important question is, how burdensome are those stocks likely to be?" he asks.
If stocks of corn at the beginning of the 2014-15 marketing year are 25 million bushels less than projected, the crop is 400 million bushels larger than projected, and consumption is 100 million bushels more than projected in the July 11 WASDE report, year ending stocks would total about 2.075 billion bushels, Good says. Those stocks would represent 15.4% of total consumption of U.S. corn and about 17.7% of domestic consumption.
This would create the largest stocks-to-use ratios since 2005-06, when ending stocks represented 17.5 percent of total consumption and 21.5 percent of domestic consumption of U.S. corn, Good says. The stocks-to-use ratios would be only slightly higher than the average for the 5-year period from 2005-06 through 2009-2010. Stocks during that period averaged 13.8% of total consumption and 16.7% of domestic consumption. That compares to the most recent 4-year averages of 8.3% and 9.4%, respectively.
Larry Clay, a commodity broker with Corn Belt Marketing, tells Pam Fretwell on Straight From The Heartland that recent price anxieties have given more than a few farmers a "wait and see" approach to marketing this year's crop.
"I think right now there's a big holding pattern taking place," Clay says. "And I think that's going to continue. The philosophy for those who haven't sold is, I'm going to wait this one out, I'm going to store my grain, and I'm going to see what next spring looks like.
For more supply and demand analysis, visit http://farmdoc.illinois.edu/marketing/weekly/html/071414.html.