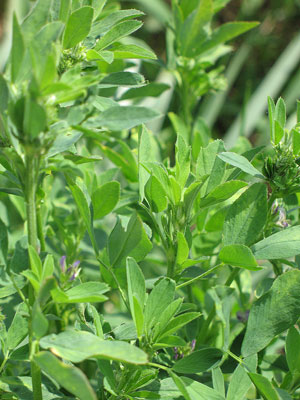 It seems unlikely our nation's highest court would ever need to ruminate over alfalfa. But Roundup Ready alfalfa recently had its day in the Supreme Court. It was the Court's first case involving genetically modified food products.

On June 21, the Supreme Court ruled 7-1 (Justice Stephen Breyer did not participate) to lift a nationwide ban on glyphosate-resistant alfalfa, reversing the Ninth Circuit Court of Appeals' decision that prohibited sale of the crop. Roundup Ready alfalfa will not be available for purchase until the USDA–Animal and Plant Health Inspection Service (APHIS) completes its final environmental impact statement and issues a record of decision for the petition.

Ron Tombaugh can't wait. The Streator, Ill., hay grower and crop producer planted one field of Roundup Ready alfalfa in 2006 before the injunction, but due to wet weather had to replant part of the acreage with non–Roundup Ready seed, preventing him from taking advantage of the chemical application benefits.

"The advantages are higher-quality forage and longer stand life," he says. "Roundup Ready alfalfa may go six or seven years compared to five with traditional varieties, and that helps offset the extra seed cost."
Questions arise. Why was the case brought to the courts? Monsanto Company v. Geertson Seed Farms had the Supreme Court justices asking this very question during the May hearing, with Farm Journal reporting on the struggle.

A group of alfalfa seed producers, organic farming organizations and nonprofit environmental groups brought the suit, alleging Roundup Ready alfalfa threatens the genetic integrity of the crop. A California district court issued an injunction and ordered APHIS to prohibit the sale of Roundup Ready alfalfa until another environmental impact statement (EIS) could be prepared.

Monsanto appealed that decision to the Ninth Circuit Court, which twice refused to overrule the district court. The company then brought its appeal to the U.S. Supreme Court.

In 2005, APHIS declined to prepare an EIS and deregulated Monsanto's Roundup Ready alfalfa, putting no limits on planting, harvesting or selling it. This came after a public comment period when 520 people and organizations opposed Monsanto's position for deregulation while 137 supported it.
Science behind the issue. APHIS staff is currently reviewing the 145,000 comments submitted on the draft EIS and will consider the comments as they prepare a final EIS determination.

"While the RR alfalfa case is very specific to alfalfa, the case has attracted other supporters that want to ensure that these determinations continue to be science-based," says Mark McCaslin, Forage Genetics president. "This case has demonstrated that what is at risk, I think, is the ability of U.S. producers to continue to have timely access to new traits that have been proven safe and add value to their crops," he adds.

Grow together. One issue in the Roundup Ready alfalfa case that applies across all traits and crops is the issue of coexistence. Can growers of biotech, conventional and organic crops coexist to serve multiple domestic and international markets?

"What makes coexistence possible is rigorous stewardship programs for seed production, production practices, grain handling, harvest, etc. The alfalfa industry has spent a lot of time lining out on paper what these coexistence strategies should look like and how to implement them," McCaslin says.

Will export markets balk at Roundup Ready alfalfa? "It's going to be an education process," grower Tombaugh says. "I think when they realize it's safe for their animals, it will be fine."

Until the dairy industry stabilizes, Tombaugh isn't expecting to increase his alfalfa acres. But he knows several other growers who have waited to seed new alfalfa, hoping Roundup Ready varieties would come back on the market. "Just like corn or soybeans, biotech isn't for everyone. It's not an issue of Roundup Ready alfalfa for me, it's the issue of having the customer for the hay once it's baled."