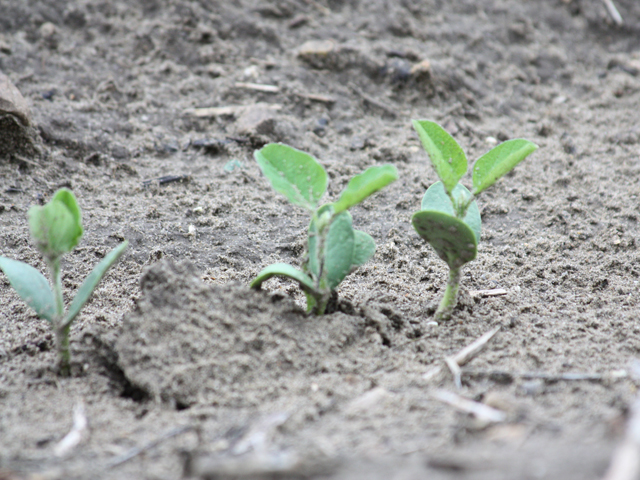 The bear markets in grains and oilseeds are starting to wear on U.S. farmers as the government predicts they will plant fewer soybean, corn and wheat acres this year.
Domestic growers will plant 83.5 million acres with soybeans, the U.S. Department of Agriculture said Thursday in its first planting outlook for the season. That's down from a record 83.701 million last year and is a surprise reduction for analysts who forecast 86.028 million, on average, in a Bloomberg survey. Futures in Chicago climbed after the report.
After record American harvests, prices have tumbled so much that about half of U.S. corn and soybean farmers are in the red and the rest will barely break even, according to Chris Barron, who farms 7,000 acres near Rowley, Iowa, and owns the management advisory Ag View Solutions. Declines in planted acreage can help to trim supplies and erode inventories.
The USDA's soybean outlook is "way below what we were expecting and is supportive" for prices, Jack Scoville, a vice president at Price Futures Group in Chicago, said in a telephone interview. "The number is triggering some speculative buying."
Soybean futures for May delivery climbed 1.2 percent to close at $10.1125 a bushel at 1:15 p.m. on the Chicago Board of Trade, erasing earlier losses. The price rose for the fifth time in six sessions to reach $10.2075, the highest for a most-active contract since Jan 13.
Corn Acres
Corn plantings will drop 1.8 percent this year, while wheat seedings decline 2.3 percent, the USDA said. The estimates were in line with the analysts' outlook.
Corn futures for May delivery gained 1.5 percent to $3.9775 a bushel. Wheat futures for May delivery dropped 0.8 percent to $5.195 a bushel.
"It's kind of a sideways trade until planting, especially for corn," Jon Marcus, the president of Lakefront Futures & Options in Chicago, said in a telephone interview. The USDA report "came in line, as expected," he said.
Soybean-meal futures for May delivery rose 2.5 percent to $339.70 for 2,000 pounds, the biggest gain since Feb. 3. Soybean-oil futures for May delivery fell 0.5 percent to 32.04 cents a pound.
Rising supplies sent soybean prices tumbling 21 percent last year, the most since 2004. A global grain glut has helped to keep food inflation in check, and food prices tracked by the United Nations fell in January to the lowest since 2010.
In Canada, canola futures rose to a seven-month high on the USDA forecast for soybeans, a rival oilseed.
The U.S. is the world's top soybean producer, and Canada is the biggest canola grower.
Expanding surpluses have left most raw materials mired in bear markets. The Bloomberg Commodity Index of 24 prices dropped for seven straight months, the longest streak since 2009. The gauge has slumped 23 percent in the past year.