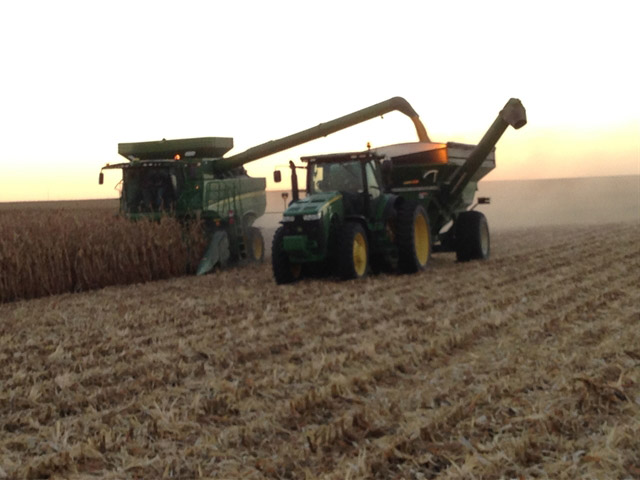 After months of predicting an ever- bigger record U.S. corn harvest, the government unexpectedly trimmed its outlook for production and inventories today, sending prices higher.
The Department of Agriculture lowered its crop estimate by 0.5 percent and said that stockpiles at the end of the season will be 3.5 percent smaller than predicted in October, a report showed today. The reduction to the harvest estimate comes after three straight months of increased projections. Prices rose as much as 3.1 percent after the surprise cuts.
Rains this spring made fields soggy as farmers finished sowing seeds in Iowa and Minnesota, where the USDA said today that producers will collect fewer bushels per acre than they expected last month. National yields will still be more than 9 percent higher than a year earlier, and growers are set to gather the biggest ever harvest.
"For many farmers in Minnesota and Iowa, the crop had too much rain just after planting in May that hurt plant populations and the ability to produce big ears," Mark Schultz, chief analyst for Northstar Commodity Investment Co. in Minneapolis, said in a telephone interview. "The crop looked better than it performed because of the weather variability during the season. Any way you cut it, there will still be a big U.S. corn supply."
Corn futures for December delivery advanced 0.4 percent to $3.69 a bushel at 1:33 p.m. on the Chicago Board of Trade, after touching $3.7875, the highest since Oct. 30.
'Buying Interest'
Prices slumped 2.5 percent last week, the most since mid- September, on expectations that the USDA would raise its production outlook. The U.S. is the world's top grower.
"The market was positioned for rising supplies and instead the government cut its reserve forecasts," Dale Durchholz, senior market analyst for AgriVisor LLC in Bloomington, Illinois. "Smaller supplies may tweak some new buying interest from both domestic and foreign end-users."
Reserves on Aug. 31, 2015, will total 2.008 billion bushels, down from 2.081 billion (52.85 million metric tons) forecast in October, the USDA said. Analysts surveyed by Bloomberg were expecting 2.164 billion, on average. Farmers will collect 14.407 billion bushels this season. That compares with last month's estimate of 14.475 billion and 14.556 billion expected by analysts.
Food Prices
Through Nov. 7, prices tumbled 13 percent this year. Production will still be 3.5 percent higher than last season, when fields recovered from the worst drought in a century and production surged almost 30 percent. World food prices fell for a seventh month in October, the longest slide since 2009, United Nations data show.
Global corn inventories before the 2015 harvest will reach 191.5 million tons, compared with last month's projection of 190.58 million, the USDA said. Analysts surveyed by Bloomberg predicted an increase to 191.78 million.
U.S. farmers sought more funds in the third quarter, with non-real estate farm loans rising 20 percent from a year earlier, the Kansas City Federal Reserve said Nov. 7.
"Concerns about the outlook for commodity prices and input costs may make 2015 a more challenging year for farm-sector profitability," the regional Fed said in the report.
Prices last month reached the lowest since 2009, reducing costs for buyers including Tyson Foods Inc. The USDA has forecast that grower incomes will drop to a four-year low, threatening to slow demand for farm machinery from makers including Deere & Co.
"Farmers will be encouraged by the corn number not getting any bigger," Bryce Knorr, a Chicago-based senior grain market analyst at Farm Futures, said in a telephone interview. "There were some extremely bearish forecasts out there for production. When you take a look at lower expected acres for 2015, that helps support the corn market a little bit."