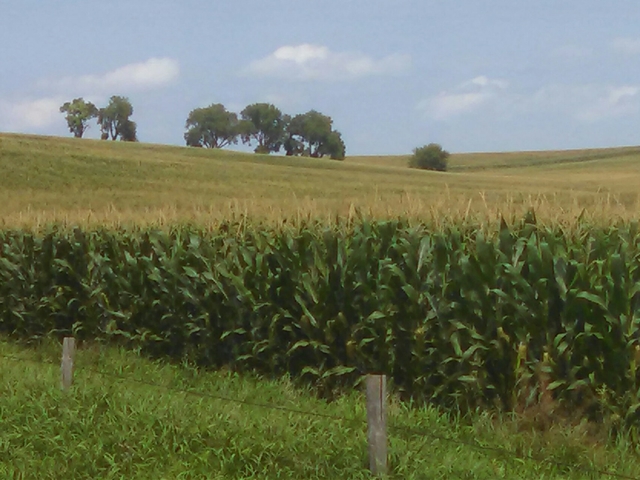 The average value of Nebraska's agricultural land dropped 3 percent in the past year, a decline fed largely by continued pessimism over grain prices, according to a preliminary survey report released Wednesday.
The University of Nebraska-Lincoln report said that as of Feb. 1, the statewide land value was $3,210 an acre on average, compared with $3,416 a year earlier. It was the first statewide drop in six years, survey organizers said.
Respondents included real estate salespeople and brokers, appraisers, bankers and mortgage experts.
In the report, university Extension educator Jim Jansen said "bearish comments reported by survey participants" on cropland values reflected the decline in grain prices.
Last month, the U.S. Agriculture Department said crop receipts were expected to fall nearly 8 percent this year, driven by lower grain prices. Corn, for example, was at a record high, exceeding $8 a bushel in summer 2012, but corn has been trading around $4 or under recently. Soybean prices have undergone similar declines.
The new university report generally echoed findings by the Federal Reserve Bank of Kansas City, Missouri, which cited fourth-quarter farmland value declines of 3.4 percent for dryland property in Nebraska and 3.1 percent for irrigated land.
In southeast Nebraska, where the university report cited a drop of 5 percent in farmland values, Falls City real estate agent Brian Poppe said he's noticed a downward drift.
"We're seeing probably actually a 10 percent drop where you don't have strong landowners" as neighbors, Poppe said. Buyers like to locate next to well-tended properties, he said.
Nebraska land used for the cow-calf industry rose in value or held steady, the university report said, "due to a strong return in that market over the last one to two years." For example, in north-central Nebraska, where ranches dominate much of its Sandhills area, land values rose 7 percent, to $1,300 acre.
"Cattle prices are still very good," said Roger Wilson, a farm management budget analyst at the university. "Just like corn prices affecting the farm prices, cattle prices affect the ranchland."
Cash rental rates for pasture in all regions rose, the university report said, ranging from 4 percent in the north to 34 percent in the central and southwest parts of the state.