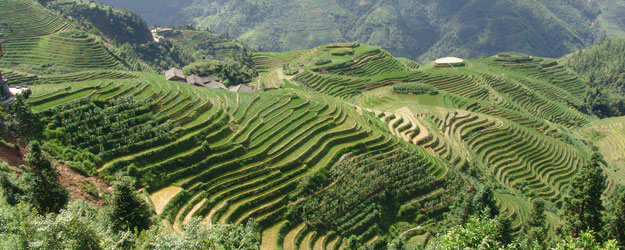 China's soil is laced with pollutants including mercury and arsenic, according to a nine-year government survey, posing a threat to agriculture and human health and raising new concern about the environmental costs of China's three decades of economic growth.
Safety guidelines were breached in 16 percent of the 6.3 million square meters of land tested, with toxic pollutants also including cadmium, a radioactive material, the Ministry of Land and Resources said in a statement announcing the results.
The government initially refused to publish results from the survey, which it called a state secret, said Wu Yixiu, head of Greenpeace East Asia's toxics campaign. The release marks the first time soil pollution data has become available on a nationwide scale, she said. Environmental issues such as the safety of air and water have become a growing concern amid incidents including a spike in benzene, a carcinogen, in tap water in the northern city of Lanzhou this month.
"It's a breakthrough that this very important data is released because it shows the authorities are now responding to people's worries," Beijing-based Wu said in a telephone interview. "Soil is the ultimate destination of heavy metals carried in water and air, so it can be a comprehensive reflection of pollution by heavy metals."
Food Scandals
More than 2 percent of China's arable land, or an area the size of Belgium, is too polluted to grow crops, Vice Minister of Land and Resources Wang Shiyuan said in December.
Environmental concerns have extended to food after a series of scandals from melamine-laced baby formula to rat meat sold as mutton. China's State Council announced a plan in February to enhance food quality and prioritize development of organic and pollutant-free agriculture over the next six years amid a surge in demand for organic food.
Faced with the "grim situation" in its soil environment, China is taking a series of measures to curb contamination, including preparing an action plan to prevent pollution and speeding up soil protection laws, the Land Ministry said in its statement.
The government will conduct further studies on soil quality and implement steps for its gradual restoration, as well as strengthen supervision over areas such as the disposal of waste water and gas, and control over agricultural production such as the use of pesticides and fertilizers, according to the statement.