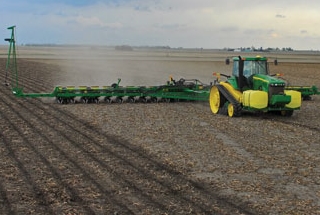 Getting the most out of your fertilizer
Alan Blaylock and Sara Fox from Agrium join Farm Journal's Pam Fretwell to discuss environmentally smart nitrogen (ESN) and sustainability programs available to farmers.
There are a number of things to think about when choosing a fertilizer, Blaylock notes. It's about more than just price when selecting a fertilizer—it's about getting the most for your money.
"Even with lower commodity prices," Blaylock says, "the key to higher profits is yield."
Blaylock suggest implementing practices and products that will give you greater yields per dollar. Enhanced efficiency fertilizers, like ESN, are one way to get more for your money. 'Smart' fertilizers are meant to stay where they're needed, when they're needed despite weather conditions, which is essential to minimizing nitrogen losses, improving yields and getting the biggest bang for your buck.
The government is interested in insuring your nitrogen is going to your crops, Fox says, not in the air or water. To help, there are programs through NRCS that will get you dollars to put sustainable, environmentally friendly fertilizer in your fields.
Alan Blaylock and Sara Fox explain: