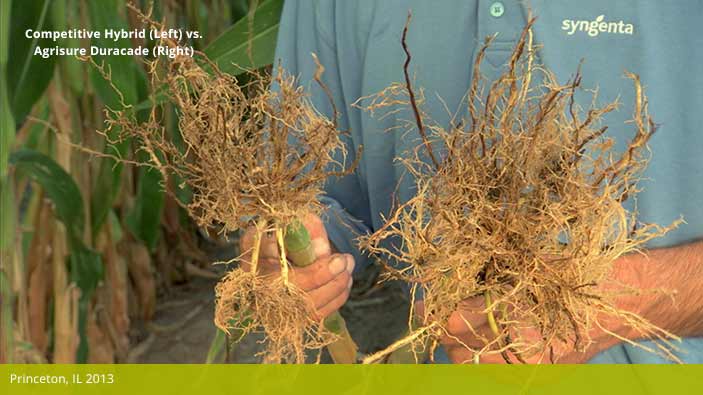 Syngenta announced the following in a recent news release.
Syngenta recently announced it has renewed and enhanced its program with Gavilon Grain, LLC, to provide grain marketing opportunities for U.S. farmers who plant Agrisure Duracade in 2015. Agrisure Duracade is Syngenta's cutting-edge corn rootworm (CRW) control technology approved in the U.S.
The "Right to Grow" program offers qualifying farmers a per unit stewardship premium for each bag of Agrisure Duracade corn planted in 2015. In addition, farmers will receive consultative services through Gavilon to help them appropriately steward and market their 2015 Agrisure Duracade grain at harvest through an extensive network of accepting destinations.
"Based on the success of our current program, we are improving it to give Agrisure Duracade growers even more marketing support in 2015," said Chuck Lee, Syngenta head of corn in North America. "Growers with CRW pressure need this technology and we want to ensure they have access to it along with many options for marketing their grain."
"We set out this year to demonstrate the supply chain is capable of expanding beyond the basic commodity model in marketing U.S. grains," said Jim Anderson, chief operating officer at Gavilon. "We are succeeding and plan to grow our network of accepting locations."
Gavilon will help connect qualifying growers with accepting elevators, feedlots, feed mills and other appropriate destinations. Also, designated Gavilon locations will accept grain containing Agrisure Duracade in 2015; however, farmers are not required to sell their grain to Gavilon. Many growers also have the option of on-farm feeding.
Agrisure Duracade is Syngenta's next-generation CRW trait, offering the latest corn rootworm technology in the industry in two trait stack options for above- and below-ground insect control. Agrisure Duracade technology features the industry's first hybrid Bt protein and is only available stacked with a second corn rootworm mode of action for technology preservation.
For more information about Agrisure Duracade and the "Right to Grow" program from Syngenta and Gavilon, visit www.agrisureduracade.com.
Syngenta also recently announced the creation of a "Know More, Grow More" digital resource that houses news, agronomic advice and instructional videos. Visit www.KnowMoreGrowMore for details.