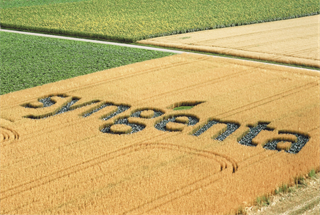 Syngenta has finally found a suitor it can accept.
The Swiss-based company on Wednesday said that its board of directors had decided to unanimously recommend that shareholders accept ChemChina's cash offer of $465 per share plus a closing bonus equivalent to $15 per share.
It adds up to a cash deal worth more than $43 billion.
"In making this offer, ChemChina is recognizing the quality and potential of Syngenta's business," said Michel Demare, Syngenta's chairman, in a statement announcing the deal. "This includes industry-leading R&D and manufacturing and the quality of our people worldwide. The transaction minimizes operational disruption; it is focused on growth globally, specifically in China and other emerging markets, and enables long-term investment in innovation. Syngenta will remain Syngenta and will continue to be headquartered in Switzerland, reflecting this country's attractiveness as a corporate location."
The all-cash nature of ChemChina's offer likely also gave it an edge; Monsanto's last bid for Syngenta was a mix of cash and stock.
ChemChina Syngenta Deal Raises Questions of Lawsuits, Regulations
AgDay, 2/4/16
"Syngenta took a lot of heat from its investors for not engaging with Monsanto about a possible deal," said a Feb. 2 Bloomberg story. "But it looks like the strategy paid off in this case. The company cited the global market rout as one of its reasons for rejecting Monsanto's stock-and-cash offer (that said, it may be giving Syngenta too much credit to say it was completely prescient about how bad things would get). Sure enough, Monsanto shares have slumped about 13 percent since the beginning of August amid a slump in commodities prices."
The deal is also a significant one for ChemChina, a state-owned Chinese enterprise. Based in Beijing, it is China's largest chemical company and generated $45 billion in revenue in 2015. 
Chinese Connection
What will this news mean for farmers, particularly in the United States? The long-term impact remains to be seen, but Syngenta said that it expects this deal to bring "continued choice for growers at a time when considerable consolidation is taking place in the agricultural industry." 
The acquisition of Syngenta by a Chinese company does represent an ironic twist, given the controversy—and lawsuits—surrounding China's rejection of U.S. corn containing Syngenta's MIR 162 trait in 2013.
But Wednesday's announcement appears unlikely to affect the lawsuits filed by growers and exporters over Agrisure Viptera.
"We don't see this potential change in ownership having any impact upon the lawsuits," said Syngenta Chief Operating Officer Davor Pisk on Wednesday. "Obviously these cases are coming to trial. They are going through the normal process, and they will be based upon the facts as they existed at the time and upon the judgment around points of law."
Listen to Pisk's comments here:
Could Syngenta's new status as a Chinese-owned company lead to more timely approvals for genetically engineered crops?
"In terms of future regulatory approvals, I don't anticipate there being any impact," said Pisk. "We will continue to try to satisfy the needs of Chinese regulators to the best of our ability. We have to work through the process that exists … There is one process, whether it be for Chinese-owned companies or foreign-owned companies."
But the Syngenta executive also expressed optimism that the lengthy approval process for GE crops could be streamlined in the future. "I do hope that China will perhaps be more open to receiving input from Syngenta on how policies, including (those in the regulatory area), can evolve in the future," he said. "I hope over time we may also be able to see a reduction in some of the points of friction and disagreements we have seen between the industry and the agricultural trade in the U.S. and in China."
Not everyone sees Syngenta's new Chinese connection as a positive one.
"Today's announcement is cause for concern among everyone in U.S. agriculture, especially farmers," said National Farmers Union President Roger Johnson in a statement. "NFU will pay particularly close attention to the alarming trend of Chinese government-owned entities purchasing U.S. and other agricultural companies. … For an increasingly consolidated sector of agriculture, this is of particular concern since state-owned businesses frequently do not act in economically rational or predictable ways."
Given Syngenta's research labs in North Carolina and manufacturing facilities in other states, the proposed ChemChina deal would likely need to be reviewed by a U.S. national security agency called the Committee on Foreign Investment in the U.S., or CFIUS.
Competition Remains for Seed, Crop Protection
When it comes to seed and crop protection choices, though, ChemChina's ownership of Syngenta may work out just fine for growers looking for competitive pricing and lots of input options.
"This deal is much less complicated than the Monsanto one," said John Hester, an Iowa-based consultant for Context Network and an experienced ag retailer. "We won't have to worry about what to do with the seed and the crop protection products."
(Monsanto's unsuccessful 2015 bid for Syngenta would have likely required selling off some overlapping seed and crop protection lines to satisfy antitrust concerns.)
While Hester acknowledged that some American growers might be reluctant to buy from a Chinese company, he also noted that such deals simply reflect the reality of globalization. "It's a big world, and China buys some of the grain we produce," Hester said.
He said he was pleased to see that Syngenta would not be absorbed by a competitor. "I think it's important that we have many competitive providers of seed, crop protection and crop nutrients to U.S. farmers," Hester said. "It keeps the competition at its peak, which is good for the farmers."
As for Syngenta's offerings, "they're quite popular in the marketplace for crop protection," Hester said. "If they ever get a butt-kicking corn hybrid, they'll pick up (business) there too."
What do you think about ChemChina's purchase of Syngenta? Will this be good or bad for farmers? Will you buy seed and other inputs from a Chinese-owned company? Let us know in the comments.