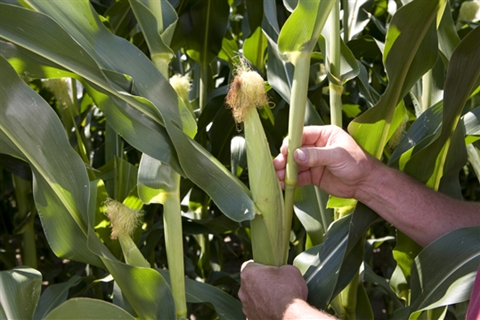 Syngenta AG, the world's largest maker of crop protection chemicals, forecast stable earnings this year as the benefits of a cost-cutting program offset unfavorable currency shifts.
A $1 billion savings program will help buoy results as Syngenta isn't budgeting for any market growth currently, Chief Executive Officer Mike Mack said in an interview today. Syngenta reported earnings before interest, taxes, depreciation and amortization of $2.93 billion in 2014, compared with an estimated $2.86 billion. Analysts in a Bloomberg survey are predicting $2.99 billion for this year, on average.
Mack is under pressure to improve results four years after announcing a strategy to rearrange the company's seeds, herbicides and other offerings along crop lines rather than by product type. Syngenta is facing heightened competition from Bayer AG, BASF SE, DuPont Co. and Dow Chemical Co., as well as makers of generic agrochemicals such as Adama Agricultural Solutions Ltd.
"The results reflect tough markets that are likely to continue for some time yet," Andrew Benson, an analyst at Citigroup, said in a note.
Syngenta shares climbed 2.9 percent to 309.2 francs as of 9:33 a.m. in Zurich. The company said it expects 2015 sales to be little changed excluding currency shifts.
Stiff Competition
Both Dow and DuPont are pushing the performance of their agricultural operations amid pressure from activist shareholders to break up or separate divisions. That's putting greater emphasis on the strength of research pipelines and the introduction of new products.
An increase in introductions of new seeds and agrochemicals comes at a time when sales volumes are under pressure as lower profits among farmers tighten spending budgets.
Mack said he's not budgeting for any market growth this year, though Syngenta is making headway in the fungicide market after introducing new brands to fend off competition. Its fourth-quarter sales totaled $3.65 billion, matching estimates, yet management pushed back a 2020 target for achieving $25 billion in sales. Now it expects to reach that goal early in the next decade.
Syngenta also has to contend with the surprise dropping of a currency cap on the Swiss franc. The change could present Syngenta with a $100 million headwind in 2015, excluding the countries that made up the former Soviet Union. A 10 percent strengthening of the franc against all major currencies reduces Syngenta's earnings before interest and taxes by 5 percent because of its local Swiss cost base, according to Deutsche Bank analyst Tim Jones.
The currency move helped Syngenta boost the dividend to 11 francs, versus an estimated 10.50 francs.
The drop in oil prices and raw material costs would boost 2016 profit by $150 million, offsetting the impact of the strong franc, based on current prices, Syngenta also said.