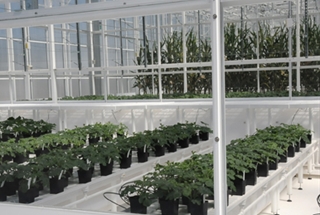 Syngenta AG, the world's largest maker of agrochemicals, rejected a 41.7 billion Swiss-franc ($45 billion) takeover offer from U.S. rival Monsanto Co., saying it undervalued the company and a merger would have significant execution risks.
Monsanto proposed paying 449 Swiss francs a share with 45 percent in cash, Basel-based Syngenta said in a statement, confirming a Bloomberg report that it had received and rejected an offer while leaving the door open for further talks. The Swiss company's shares surged the most in more than 14 years in Zurich trading.
Monsanto, a U.S. maker of genetically-modified seeds and weedkillers, timed its approach with a lull in Syngenta's performance amid currency moves and lower crop prices, and a deal would make it the largest player in both seeds and crop chemicals. Syngenta said the offer is too low as it bets that the benefits from grouping products into specific crop units -- from seeds to herbicides -- will soon accelerate, adding to extra sales from a slate of new technologies.
In a statement released Friday, Monsanto addressed Syngenta's announcement. 
"Monsanto has long respected and followed Syngenta's business and believes combining the two companies would deliver significant value to all stakeholders, including shareholders. Creating a new company from the combination of Syngenta' strengths and leadership in crop protection chemicals and Monsanto`s leadership in seeds, traits and information technology would form an integrated global leader in agriculture with comprehensive and complementary product portfolios, and an ag-focused organization with enhanced abilities to develop and accelerate innovative solutions for growers," Monsanto's statement said. 
"The long-term outlook of Syngenta is good, so I can understand that they are asking for a higher premium," Patrick Rafaisz, an analyst at Bank Vontobel, said by phone. "These two companies have different corporate cultures. So it will be difficult to merge them without inefficiencies."
Landmark Deal
Syngenta shares gained as much as 19 percent, the biggest increase since Nov. 2000, and were up 18 percent at 394 francs as of 1:28 p.m. in Zurich, valuing the company at 37 billion francs.
The offer values Syngenta at about 17 times its earnings before interest, taxes, depreciation and amortization in the last 12 months. Large chemical companies purchased in the last decade have commanded a median multiple of about 9 times, so a purchase of Syngenta would also rank as one of the industry's more expensive deals, according to data compiled by Bloomberg.
The companies held preliminary talks last year with advisers about a combination, before Syngenta's management decided against negotiations, people familiar with the matter said at the time. No agreement was reached after concerns were raised about the strategic fit, antitrust issues and the location of headquarters.
If the Monsanto-Syngenta deal goes through, it would be the biggest ever acquisition off a European company by a U.S. rival, according to data compiled by Bloomberg. The deal would've only been exceeded by Pfizer Inc.'s attempted purchase of AstraZeneca Plc last year and AbbVie Inc.'s plan to buy British drugmaker Shire Plc, both of which were abandoned.
Transatlantic Deals
Tempting Syngenta to the negotiating table and agreeing terms would also make Monsanto a formidable competitor to Bayer AG, BASF SE and Dow Chemical Co. Syngenta is the world's largest maker of crop chemicals whereas St. Louis-based Monsanto is the largest maker of seeds and dominates the global market for genetically modified crops like corn and soybeans.
Still, Syngenta Chairman Michel Demare said today the offer is not good enough.
"Monsanto's proposal does not reflect the outstanding growth prospects of Syngenta's integrated strategy and the significant future value potential of the company's crop-focused innovation and market leading positions," he said. "While Syngenta's valuation is currently affected by short-term currency and commodity price movements, the business outlook is strong."
Demare said the offer also underestimates significant execution risks, including regulatory and public scrutiny in many countries.
In its Friday statement, Monsanto disagreed. "Monsanto, in conjunction with its financial and legal advisors, has devoted significant time and resources to analyzing a potential combination of Syngenta and Monsanto and is confident in its ability to obtain all necessary regulatory approvals," it said.
Antitrust Issues
To address antitrust issues, Monsanto has planned for a deal that would include a sale of portions of the combined business, a person familiar with the matter said last month. The U.S. company last year reached out to potential bidders for those assets, including Bayer, this person said.
The largest business overlaps are the North American and Latin American herbicide markets as well as in seeds in North America, according to Morgan Stanley analysts Paul Walsh and Charles Webb.
Monsanto's dominance in the seed industry has been the subject of U.S. antitrust probes at the federal and state levels. The U.S. Department of Justice's antitrust division dropped its probe into possible anti-competitive practices in the seed industry in 2012, and a month later at least seven states led by Iowa ended their five-year investigation without taking action.
The company has also been criticized by environmental groups such as Greenpeace that oppose its development of genetically-modified crops.