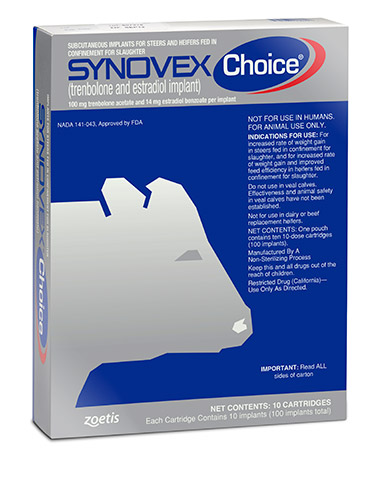 Zoetis announced that SYNOVEX CHOICE® is approved for use in feedlot heifers. The implant helps increase average daily gain and improve feed efficiency in heifers, and it helps increase gain in feedlot steers.
For more than 12 years, SYNOVEX CHOICE has helped optimize weight gain in feedlot steers through the 10:1 ratio of trenbolone acetate (TBA) to estradiol-17B (E2).1 The U.S. Food and Drug Administration (FDA) approval for use in heifers means feedlot managers can use the same implant for all cattle.
"SYNOVEX CHOICE helps simplify feedlot implant programs because it is approved for steers and heifers and can be used in calf-fed or yearling cattle," said Blaine Corners, PhD, beef cattle nutritionist with Zoetis. "Now, processing crews no longer have to worry about keeping separate inventory for males and females. They also do not need to manage two guns chute-side — the SX10 applicator is all they will need, so it is more convenient to work cattle."
The SX10 applicator — which can be used to administer all SYNOVEX® implant formulations — features an exclusive retractable needle that helps ensure consistent, accurate administration of SYNOVEX CHOICE. Preventing crushed, bunched or dropped implants can help maximize the return of implanted cattle.
"Feedlot managers are seeing unprecedented cattle prices so they are looking at every opportunity to maximize performance while those animals are in the feedlot," Corners explained. "SYNOVEX CHOICE can help feedlots add even more value — $60 to $68 per head in steers and $52 per head in heifers."1,*
SYNOVEX CHOICE is the first beef-cattle implant to face additional scrutiny by the FDA about its impact on the environment. Through research and in-depth environmental modeling, Zoetis examined exposure to and the direct impact of TBA, estradiol benzoate and their metabolites. After reviewing results of those studies, the FDA concluded that SYNOVEX CHOICE is not expected to have a significant impact on the environment, including waterways, air, plants or aquatic species, when used according to label directions.2
SYNOVEX CHOICE is packaged in cartons of 100 implants (10 cartridges containing 10 doses each). To learn more, visit www.synovex.com.
IMPORTANT SAFETY INFORMATION: Do not use SYNOVEX products in veal calves. Refer to label for complete directions for use, precautions, and warnings.
Source: Zoetis