By Katie Humphreys
The 2014 Missouri State Fair is one Trey Porter will never forget. His success in the show ring with a barrow named Big Smo is sweeter when you know the story from the beginning.
On Feb. 2, the 14-year-old was sitting in his science class when his dad, Doug, showed up at school dressed in bloody work clothes. Trey told his principal he'd be right back, just as he'd done several times before during farrowing season.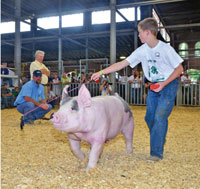 From the day Trey Porter, High Point, Mo., helped deliver Big Smo, he knew there was something special about that pig.
After several minutes of pulling, out came Big Smo, the last pig in the gilt's litter. At weaning, numerous show pig customers came and went, but Big Smo remained. Trey decided to keep the barrow for himself. Despite a largely unsuccessful jackpot circuit, he continued to feed and exercise Big Smo with an eye on the Missouri State Fair. When the big day arrived, all 268-lb. of Big Smo rose to the occasion, and he was awarded grand champion market hog.
---
By Sara Brown 
What A Day: A Tip for Hay Stackers
It was a good day to make hay, until the driver caught the edge of the lane on the last trip, tipping over into the ditch and spilling the top bales.

If you've had one of those days—or captured someone else's—we'd love to share it with our readers. Email high-resolution images to http://sbrown@farmjournal.com or mail prints to What a Day!, Farm Journal, P.O. Box 958, Mexico, MO 65265. Photos for publication will be selected on a first-come basis.
---
Stat Rack
State fairs across the U.S. bring agriculture awareness, economic impact and a whole lot of fun:

37-Piglets born at the Piglet Palace during the 2013 Washington State Fair

9,000-Water efficient nozzles handed out by Toro at the 2014 California State Fair

2.598 million-Attendance at the 2013 State Fair of Texas, the largest state fair

$2-Cost of the 2014 Iowa State Fair's newest treat, Fair-berry, a blend of crisped rice cereal, marshmallows and a burst of strawberry flavor

$100,000-Record price for the 2014 Illinois State Fair grand champion crossbred steer, owned by 12-year-old Shaelye Varner. It was bought by AT&T, Monsanto and DeKalb Asgrow.

$2 million-Auction price of the 2014 Kentucky State Fair grand champion 15.89-lb. ham, raised by Broadbent B&B Foods. It was purchased by Republic Bank and Hermitage Farms.