By Sara Brown
What A Day: Better Safe Than Sorry
A small fire on a tractor worth more than $300,000 makes the $30 fire extinguisher you forgot to replace priceless.
If you've had one of those days—or captured someone else's—we'd love to share it with our readers. Email high-resolution images to [email protected] or mail prints to What a Day!, Farm Journal, P.O. Box 958, Mexico, MO 65265. Photos for publication will be selected on a first-come basis.
---
By Katie Humphreys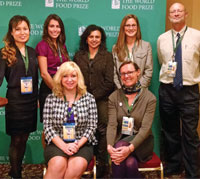 Front row from left: Breanne Brammer, Lebo Moore. Back row from left: Anna Maikova, Jessica Vaughn, Nina Furstenau (professor), Ann Millington and Bill Allen (professor).
Journalism Students Cover Global Food Insecurity
Students from the University of Missouri's College of Agriculture, Food and Natural Resources covered the politics, science and human aspects of global hunger at the World Food Prize/Borlaug Dialogues in Des Moines, Iowa, in October. As part of the Farm Journal/Sonja Hillgren Field Reporting Institute, they detailed the importance of soil health, yields, food waste and awareness about the looming food crisis in Ebola-struck nations. Visit www.FarmJournal.com/World_Food_Prize for their blog
---
Stat Rack
From lattes to beer flavorings, the pumpkin craze is in full swing. This food trend has 
far-reaching effects.

$308 million- Value of U.S. pumpkin-flavored sales in 2013, a 14% jump from 2012. The extra demand helped push pumpkin prices up 11%.

$150 million- Value of U.S. pumpkin production in 2013.

90%- Of pumpkins processed in the U.S. are grown in Illinois.

Morton, Ill.- Pumpkin capital of the world.

2,032 lb.- Weight of the world's largest pumpkin, grown by Tim Mathison, as measured Oct. 11, 2013, at the Uesugi Farms Pumpkin Park Weigh-Off in Morgan Hill, Calif.

3,699 lb.- Weight of the largest pie, made by the New Bremen Giant Pumpkin Growers in New Bremen, Ohio, on Sept. 26, 2010.