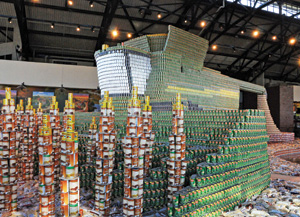 To celebrate farmers helping to feed the world, John Deere created a replica of its new S Series combines out of more than 300,000 cans of food.

Project Can Do, as it is called, took a year to plan, a team of architects from Chicago and the help of Hy-Vee, which donated the food. More than 650 John Deere employees and other volunteers helped to construct the project.

The honor of placing the last can on the structure went to Bob Herring, a farmer and Gold Key customer from Mechanicsville, Iowa, who said, "That's one small can for man, one giant 'can do' for mankind!"

The structure, designed by RTKL Associates, an international architectural company, was on display at the John Deere Pavilion until Dec. 11. The cans of food were then donated to the River Bend Foodbank in Moline, Ill. 
---
Stat Rack: The ag equipment manufacturing industry
1 ATV is manufactured and assembled every 1.3 minutes of production time at Yamaha's Newnan, Ga., factory.
10 minutes  The time Hagie Manufacturing employees spend each morning doing organized stretching exercises.
14 miles  The length of all Sunflower tillage and seeding tools built in 2011 if laid side by side.
18  The maximum number of computers on each John Deere S Series combine.
24 gal.  of red paint is used on each Case IH Axial-Flow combine.
66 lb.  of paint is used on each Claas Jaguar forage harvester.
46'  The maximum length of 20" diameter steel tubing that can be cut by the largest tube laser in North America, installed by Landoll Corporation.