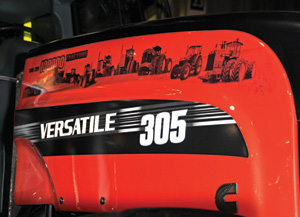 In October, Versatile built its 100,000th tractor at its Winnipeg, Canada, factory. The milestone machine, a Versatile 305 row-crop tractor, was purchased by the Bracelin family of St. Francis, Kan. Rodney Bracelin, his son Chris and grandson Cade made the trip with dealer salesman Jon Yost of Yost Farm Supply, Goodland, Kan., to see the tractor come off the production line.

The Bracelins have owned 22 Versatile tractors on their family farm, which includes 10,000 acres of pasture and cropland. Along with Rodney's brother, Kenny, they raise cattle, dryland wheat, and dryland and irrigated corn.

"This is the third row-crop Versatile we've owned; the rest were four-wheel-drives," Rodney says. "First thing it'll be used for is to pull the strip-till bar. We'll also use it for planting, other tillage, the grain cart and spraying."

The Bracelins' Versatile 305 features chrome accents, red metallic paint and a graphic detail on the hood that showcases tractors from the brand's 50-year history.

"This moment in Versatile history took 528 months, 6,009 man-hours of labor, 591,348 tires, 900,000 tons of steel and 23,644,053 horsepower to add up to 100,000 tractors built on Clarence Avenue," says Grant Adolph, Buhler Industries' chief operating officer.
---
Stat Rack
The U.S. railroad system today:
560  Railroads in operation.
7  Class I railroads account for 68% of freight rail mileage, 89% of employees and 93% of revenue.
1,309,029  Freight cars in service as of Jan. 1, 2011.
139,679  Miles of rail.
29.2 million  Average number of freight carloads that originate in the U.S.
63.4 tons  Average weight of each freight carload.
913.6  Miles on an average haul.
$265 billion  Total economic activity derived each year from freight railroads.
$9.2 billion  Net income of the rail industry in 2010.