Canvassing Corn and Soybean Fields

The Pro Farmer Midwest Crop Tour is off to a bang-up start and the scouts haven't even headed to field. The popular event, held the third week of August each year, will be one of the nation's first chances to nail down the potential of the 2008 crop.

Scouts will take part in the two-leg, four-day tour that canvases the heartland, logging 25,000 miles and gathering yield information from 1,000 corn and 1,000 soybean fields. On the tour this year will be scouts from Brazil, Argentina, England, Japan, Canada and the U.S.

You can follow the tour online at AgWeb.com, watch reports on "AgDay" and "U.S. Farm Report" and read a final report in the September issue of Top Producer. Given the number of farm broadcasters who cover the tour, you'll likely hear radio reports.

Speaking of radio reports, if you see Pro Farmer Editor and Publisher Chip Flory, who runs the tour, ask him about the time he was grabbing a bite to eat at the Subway in Shenandoah, Iowa. An interview with him came over the local station and a hush fell over the booth of farmers seated behind him. Chip made light of the report, saying things like "be careful about believing that guy," until the farmers were irritated. At that point, he interrupted the radio report to give them a straight-from-the-horse's mouth rundown. Everyone left Subway smiling.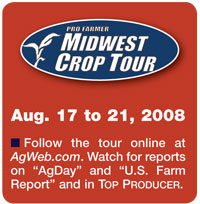 Stat Rack

Weather-Related Disasters

78 Number of weather-related disasters from 1980 through 2007 that each caused $1 billion or more in damages

2007 Series of ice storms and heavy snow led to $380 million in damages from Oklahoma to New England; a spring freeze followed in the Southeast and Midwest causing $2 billion in damages

2005 Hurricane Katrina caused $125 billion in damages, the most expensive natural disaster in U.S. history

1993 Summer flooding in the Midwest caused $21 billion in damages

1988 Summer drought and heat wave led to $40 billion in damages in the central and eastern U.S.

1974 A single storm canvassed 14 states spawning 148 tornados, the largest number ever produced by one storm