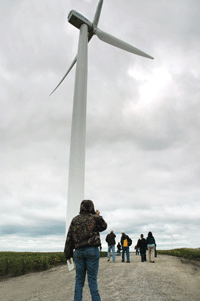 University of Missouri journalism students at the Sonja Hillgren/Farm Journal Ag Journalism Field Reporting Institute visit a wind farm near Rock Port, Mo., as part of their hands-on study.

More than Hot Air
Becoming a journalist involves sorting out a lot of wheat from the chaff. No one did it better than late Farm Journal editor Sonja Hillgren.

Each year a talented and lucky set of prospective journalists get the opportunity to head to the field to experience this journalistic sorting process firsthand. The Sonja Hillgren/Farm Journal Ag Journalism Field Reporting Institute is coordinated through the University of Missouri. This September, students literally got their boots dirty following the golden corn kernel from planting to consumption in northwest Missouri.

They visited a multigenerational farm, a white corn specialty farm, a power plant, an ethanol plant, a wind farm, a corn processor and more. All the while, they asked questions—thousands of questions—as they looked beyond the classroom to real life.

With their notebooks packed full and heads spinning, students returned to their computers to decide which issues were worthy of coverage.
Thanks to Sonja, they learned a lot about agriculture and got a taste of what a career in journalism is like.
 
---
WHAT A DAY!
A Nut Case:
The less-than-ideal weather conditions were more than complicating harvest on this New York farm—that is, until the nut came off the end of the shaft. Rain or shine, this combine was going nowhere. 

If you've had one of those days—or caught someone else's on film—we'd love to share it with our readers. E-mail high-resolution images to khumphreys@farmjournal.com, or mail prints or slides to What a Day!, Farm Journal, P.O. Box 958, Mexico, MO 65265. Photos for publication will be selected on a first-come basis.

 
---
Stat Rack
Presidential elections by the numbers:

6: Number of presidents who graduated from Harvard, the college with the most presidential alumni; Yale is a close second with five presidential graduates

18: Number of presidents who never served in Congress

48: Percentage of voting-age citizens who voted in the 2006 congressional election, which totaled 96 million people

64: Percentage of voters in Minnesota and South Dakota who went to the polls in 2006, the highest voter turnout in the U.S.

221: Number of years between the time that Delaware ratified the Constitution and when a Delawarean (Democratic vice presidential candidate Joe Biden) landed on a major-party ticket

54,455,075: Highest popular vote received by a candidate, President Reagan in 1984.
In that year, Reagan also received the highest number of electoral votes, 525.