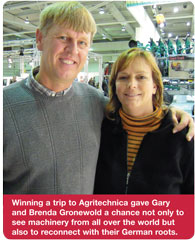 Winning a Trip from One Hanover to Another

It'll take a while for everything that happened in a short period of time to sink in for Gary and Brenda Gronewold. The lucky Pickrell, Neb., couple were the Farm Journal winners of a trip to Agritechnica 2009 sponsored by the DLG, host of the world's largest machinery show.

Gary scrambled to finish as much harvesting as possible before they left their farm in Hanover Township for Hanover, Germany. When the couple landed, extended family members picked them up and whisked them to a German village near the North Sea for a welcome dinner in Gary's great-great-grandfather's house.

While the Gronewolds spent only 24 hours in Aurich, Germany, it was a powerful, get-goosebumps experience. Many of the families in their Nebraska home hail from that area of Germany—and in many ways, Pickrell is a re-creation of the village. The Lutheran churches in the two towns, for example, are virtually identical. "Everywhere we turned, we saw someone who looks like someone back home," Brenda says.

Watch for a full report from the Gronewolds in a future issue of Farm Journal and at www.FarmJournal.com.

 
---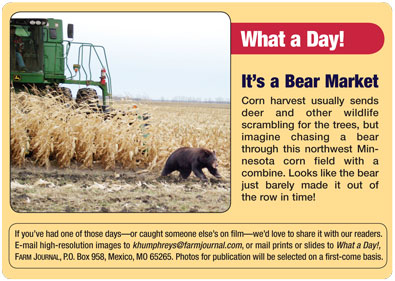 ---