Your Chance to Watch and Win

September is an exciting month for "AgDay" and "U.S. Farm Report." You can win prizes starting Sept. 8 and catch these special features:  
Farmer–Comedian: Let "AgDay" take you to visit the Ohio farm of the popular and nationally known comedian Drew Hastings.
The New Frontier: Go behind the former Iron Curtain to see the potential for farmers in the Ukraine with the Top Producer Frontier Study Tour. Farmers who took part in the tour were astounded by the rich, black farmland and amazed at the lack of technology and farm management.
Helpline Minute: Tune in as Farm Journal Family Counselor Jonathan Finck offers practical insights to farm families dealing with life's stresses.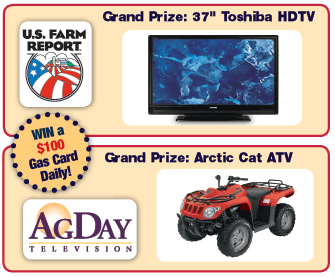 Stat Rack
 
The 2008 Farm Journal Corn College by the numbers
1     Dodge Ultimate Farm Truck that pulled the people mover with shuttle attendees around the Corn College site
2     Sold-out sessions packed with corn farmers from all over the U.S. plus Canada and the Ukraine
5     Hands-on breakout sessions integrated into the general classroom sessions
17     Acres of demonstration plots surrounding the Corn College site, showcasing field-size efforts in the Farm Journal Test Plots
26     U.S. states represented in the crowd, stretching from Vermont to Alabama to Arizona to Washington
472     Miles Larry Stebbins rode on his Harley from his southern Minnesota farm to attend the central Illinois event
1,962     Most miles from home a corn grower traveled within the U.S. to take part in Corn College