Bankers share how profitable farmers stay that way
What sets farmers in the black apart from those in the red? Four bankers share how farmers are successful in today's tough times. 
Rate the health of your ag lending portfolio on a scale of 1 to 10 
(1 = loan default, 10 = profitable)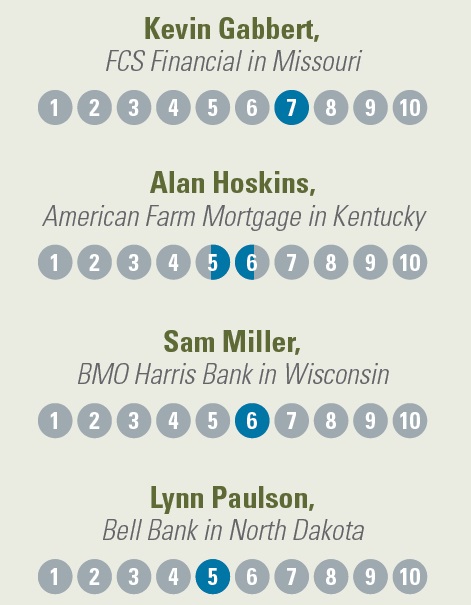 What do profitable farmers consistently do?  
"They sweat the small stuff," says Lynn Paulson, senior vice president of Bell Bank in North Dakota. "Profitable farms in my portfolio do a lot of things 5% better that in aggregate add up to be something significant."
Additionally, he says, his best customers are laser focused on expenses, know their cost of production and have a marketing plan they execute. They place equal emphasis on production, financial management and commodity marketing. 
"They make most financial decisions from the head and not the heart," Paulson adds 
Alan Hoskins, president of American Farm Mortgage in Kentucky, says his best customers strive for continuous improvement. 
"They understand even though they may have done something the same way for years, there might be a better and more profitable way to do it," Hoskins says.  
Sam Miller, managing director of ag lending at Wisconsin's BMO Harris Bank, says profitable farms are continually looking for sustainable opportunities to lower their breakeven. "They have a dashboard of production and financial metrics and monitor, adjust and react to changes."
---
What is the biggest mistake made by farmers who aren't profitable?  
Kevin Gabbert, vice president of the commercial farmer team at FCS Financial in Missouri, says the biggest misstep he sees unprofitable farmers take is over-leveraging their operation. This can result in overhead costs that are too high. 
"Key areas to stay focused on to avoid this issue include land rent or mortgage payments, debt service on equipment, and labor including draws for family living and management," he says.  
---
What advice do you have for farm CEOs?  
"Hone-in on solid accrual-based accounting, do scenario planning and have back-up plans," Paulson recommends. 
Seek guidance from suppliers and service providers and evaluate what they bring to your farm, Hoskins suggests. "Whether it's your accountant, banker, crop insurance agent, grain merchandiser, input supplier or anyone else you view as key to your operation's success, ask yourself how they are truly adding value and not just supplying a product or service." 
Find a checklist for what to take to your loan renewal meeting and other advice at AgWeb.com/loan-renewal