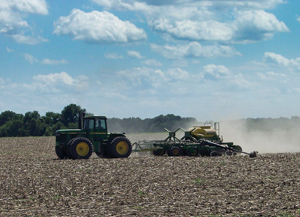 The 2010 growing season showed many soybean producers what can happen if they do everything right and Mother Nature smiles on them. "The environmental conditions in many areas allowed varieties to express the genetic potential that is always present," says Ryan McAllister, a team sales agronomist for Beck's Hybrids.

How good was 2010? "We saw one field of soybeans following soybeans that yielded 70 bu. per acre," says Farm Journal Field Agronomist Ken Ferrie. "Another field that was replanted three times still made 50 bu. per acre."

"A lot of fields in my territory [Ohio and the eastern quarter of Indiana] yielded in the mid-60s to mid-70s," McAllister says. "The normal average yield in this area would be from 46 bu. to 52 or 53 bu. per acre." He says he saw one 40-acre Ohio field crank out 114 bu. per acre.

Even in areas that experienced unusually high levels of sudden death syndrome (SDS), such as east-central Iowa, there were some very good yields, says Jim Fawcett, an Iowa State University Extension field agronomist based in Iowa City.

"It depended how severe SDS was in a particular area. In some cases, you could find yields of 70 bu. per acre and 10 or 20 bu. per acre within a few miles of each other," he says.
Aug. 1 to 2
Near Coldwater, Mich.
Let Farm Journal Associate Field Agronomist Missy Bauer teach you the secrets to soybean growth and development to help you raise better beans. Pre-registration is required, no walk-in registrations will be accepted.
For details and to register, go to
www.FarmJournalCornCollege.com or call (515) 254-0289.
On the heels of bin-buster soybean yields, the question now is, can you do it again this year? Sustained yield will depend on two factors: the weather and how well you lay the groundwork for high yields.

In regard to weather, the stars aligned in 2010, McAllister says. In his area, many farmers were able to plant earlier than usual; they planted all of their corn and most of their soybeans in April.

"After planting, many growers had saturated soil conditions for a month. That's not good for roots—but it's more of a problem in corn than it is in soybeans," McAllister says. "On the plus side, the rainfall gave us a full soil moisture profile going into summer, so vegetative growth was unbelievable. More plant material early in the season let plants capture more sunlight, which led to more photosynthesis.

"We were dry in the summer, just when disease usually develops," he continues. "As a result, there was less disease than usual. Although the weather was dry, we still had enough subsoil moisture to carry the crop. Then it rained again at pod fill—2" and 3" rains, not small ones."

Plentiful soil moisture positively affected fertility, McAllister adds. Soybeans need a lot of potassium, which tends to get tied up with soil particles under dry conditions.

"Because there was moisture in the soil, potassium remained available to the plants, and they got plenty of it during the vegetative growth and pod-fill stages," McAllister says.

Soybeans were better able to capitalize on 2010 weather conditions when compared with corn, notes Jennifer Ralston, Monsanto Company soybean product management lead.

"The timing of planting was such that soybeans weren't as susceptible as corn to high heat during grain fill," she says. "Where rainfall occurred early in the season, the loss of fertility was less significant for soybeans than for corn."
Better genetics raise yield. Weather is only half the equation. "The environment set up the opportunity for high yield," says Dan Berning, Pioneer Hi-Bred technical services manager. "After that, growers had to manage the details of production. Give them credit for using new technology."

Improved genetics helped soybeans increase their average yield by 1.27% per year for the past 25 years, Berning points out, despite obstacles such as colder, harsher soil conditions, resulting from conservation tillage, and increased pressure from insects, disease and soybean cyst nematodes.

Farmers are learning to choose the best variety for each field—a combination of yield plus defensive traits, Berning says. In addition, Berning and Ralston say, growers are using seed treatments to get seedlings off to a robust start even in the colder, wetter growing conditions that result from earlier planting and increased surface residue cover.

Seed treatments allow farmers to plant earlier, enabling more vegetative growth, so plants produce more nodes, or pod positions, before they bloom, Berning explains.

McAllister also throws a salute to precision ag technology. "For high yields, you must have the right soil pH and good fertility levels," he says. "More growers are using variable-rate application equipment to fix deficient areas in their fields."
Strategies for this year. Lay the best possible foundation for high yields and hope for ideal growing conditions. "Yield-maximizing practices pay off whether the weather is good or bad," Berning says. "They may even pay off more in tougher growing seasons by helping plants overcome stresses."

Match soybean varieties to each field. "First, look for varieties that yield consistently in many plots," Berning says. "Make sure the varieties you compare are the same in herbicide resistance, nematode resistance and other critical traits, and in maturity.

"Then consider which defensive traits you need for each field, based on that field's history. It may be iron chlorosis in Western states or soybean cyst nematode or white mold. Make resistance or tolerance a key factor in your variety selection."

"In this region [central Iowa], 2010 was an ideal year to study variety trials because there was a huge difference between varieties in tolerance to SDS," says Iowa State University agronomist Fawcett. "Variety selection is very important in combating SDS."

If white mold is a problem in your area and you are in a corn–soybean rotation, remember that white mold inoculum from the 2009 soybean crop is still out there, waiting to attack when the field goes back to beans in 2011, Ralston cautions. Choose varieties with a high level of tolerance.

Apply appropriate seed treatments to help get soybeans off to a good start. "We see yield increases every year from the use of seed treatments," Ralston explains. "Treatments are
especially important if you plant early or if soil is cool and wet."

Consider applying an inoculant if a field has been out of soybeans for a while, Ferrie suggests.
When to plant. Plant early, but use good judgment. "Years ago, we thought we should plant corn in mid-April through late May and then plant soybeans because there was no yield penalty for planting into June," Berning says. "With improved varieties, we are seeing a yield penalty for soybeans after May 10 or May 15. A good target to start planting is the last week of April or the first week of May in Northern states and somewhat earlier in Southern areas.

"There's little or no research showing any advantage for planting soybeans before April 20 in the central Midwest," Berning adds. "Farther north, in Minnesota, Wisconsin and northernmost Iowa, planting before May 1 usually is not recommended."

"Don't plant soybeans if there's danger of frost," Ralston says. "Unlike corn, a soybean plant has its growing point aboveground; if you get freeze damage to the growing point, you will likely need to replant."

"If a field has a history of SDS, don't plant that one first—but don't wait until mid- to late May, either," Fawcett advises. "In some cases, our better yields in 2010 were planted in early May, rather than late April. That may be because the later-planted fields had less SDS."

"If a field is prone to holding water, use treated seed and good phytoph-thora resistance," McAllister says.

Try to work around the weather and plant when conditions are as near ideal as possible. "Many of the technologies that contribute to higher yield also add to input cost," Ralston says. "So you need to protect that investment. If it's too wet to plant, even if the temperature is right, don't plant. Try not to mud the crop in."

Once the crop is up and growing, minimize stress from pests. "Your goal is more pods, and more beans in the pods," Berning says. "Stress causes plants to slough off pods or abort them. Control weeds before they become competitive with the crop, and control insects, such as soybean aphids and bean leaf beetles, before they reach economic thresholds. Consider applying a foliar fungicide to control disease."
Every-year practices. Some important high-yield soybean practices are ongoing. "Watch your fertility levels," Berning cautions. "A soybean crop removes 75% as much phosphorus and more than 50% more potassium than a corn crop. We're hearing reports that suggest a trend of declining soil test values. That could haunt growers in the future."

Control soybean cyst nematodes (SCN). This pest can reduce soybean yields by 30% before a field shows visible symptoms. And nematode infestations seem to set the stage for SDS. "We saw that in 2010, when SDS was worse than normal," Fawcett says. "Fields that don't yet have nematodes tended not to get SDS."

"Sampling fields without visible symptoms is the only way to detect SCN before they become an economic problem," Berning says.

Along with resistant varieties, correcting compaction and improving drainage can help soybean plants resist the effects of SCN. When selecting resistant varieties, vary the source of genetic resistance to avoid race shifts of SCN within a field.

If possible, rotate completely away from corn and soybeans, even for just one year. "A corn–soybean rotation creates almost ideal conditions for SDS," Fawcett says, "because the pathogen survives on corn residue and on corn seed."

In an Iowa State University study, agronomist Matt Liebman found that 90% of the soybean plants in a corn–soybean rotation were severely affected by SDS. In three- and four- year rotations involving corn, oats, red clover and alfalfa, only 10% of the soybean plants were affected.

If you plant soybeans in 30" rows, consider narrowing your spacing, Berning says. Pioneer research showed a 5% yield increase by switching from 30" rows to 7" rows. The yield increase was almost as great with 15" rows. Compared with 7", 15" rows allow more air circulation to help combat white mold. They also permit use of a unit planter, rather than a drill, which lets you plant a lower rate.

"High yield is a matter of managing details," Berning sums up. Ralston adds: "With high commodity prices, incremental agronomic practices pay for themselves."

When you get ideal weather for the growing season, the payoff for soybeans can be great. "Good as it was, last year's weather wasn't perfect," Ralston says. "In general, we had smaller than average seed size in 2010. But yields were up, which means we had more soybeans per acre or per plant than normal.

"That resulted from good growing conditions during seed set—it gave us enough seed to compensate for less than ideal grain fill, which resulted from high temperatures, and sometimes low rainfall, later in the season," Ralston adds. "If we see 2010 weather conditions, along with more typical late-season weather, we could have even higher yields in 2011."
---
Push Seeding Rates if Planting Runs Late
A 15-year Farm Journal study shows you need to push seeding rates if planting runs unusually late. The study also suggests that narrowing rows to 20" or less provides some yield insurance in an adverse growing season.

In the study, with normal planting dates, 120,000 viable seeds per acre were sufficient in 10" and 20" rows. That rate was competitive with 160,000 viable seeds per acre in 30" rows. "The data got a little fuzzy as to whether 120,000 seeds was enough in 20" and 30" rows," says Farm Journal Field Agronomist Ken Ferrie. "It did not raise any yield concern, but we always saw more scattered weeds in the wide-row plots at low populations."

Bumping the seeding rate to 200,000 never produced the highest yield in any row width. "That suggests that, under normal conditions, we cannot push yield by pushing seeding rate to very high levels," Ferrie says.

However, in 2008, which had an unusually wet spring when many soybeans were not planted until the end of June, planting only 120,000 viable seeds per acre carried a significant yield penalty. The highest yields across all row widths usually occurred with 160,000 seeds per acre. Planting 200,000 viable seeds per acre produced a yield advantage in 30" rows, "but it did not run away from 160,000," Ferrie notes.

With late planting, plants are shorter, so you need more of them, Ferrie explains. "The study tells us to push seeding rates if the planting season is unusually late," he concludes. "If you wind up with 150,000 plants per acre, you'll probably be OK in row widths from 7½" to 20", but you may pay a yield penalty with 30" rows."