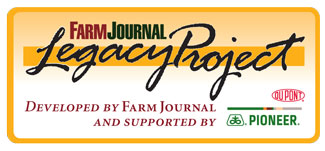 Use these guidelines to transition your farm
Succession planning is a lot like adopting precision agriculture, shares Dick Wittman, Idaho farmer and president of Wittman Consulting. "While intimidating at the beginning, you take something extremely complicated and break it down into understandable concepts. It's complex but doable," he says.

Wittman and other experts shared laundry lists of actionable items for creating succession plans during the July Legacy Project Workshops, which were held in Omaha, Neb.; Moline, Ill.; and Austin, Minn. 

Define your farm's structure. How does your farm operate, and who does what tasks? Wittman says while it might seem formal, you need to define shared values, roles and accountability for everyone in the operation. "Have the people in your operation draw an organizational structure," he says. "When you can put this on paper, you can describe what you have today and assess arrangements for how the operation will be organized in the future." 

Create a Plan A and Plan B. Farmers should have two succession plans, says Tim Moll, attorney with Rembolt Ludtke. One plan for if everything goes as anticipated and one for a disaster. "With both long-term and emergency plans, analyze and update them every five years," he adds. "Also, once your plan is in place, test it." Make sure the plan is fair, feasible and tax-efficient. 

Have a plan for incapacity. An overlooked aspect of succession planning is preparing for incapacity, says David Wierman, an attorney for Wessels Law Office. "Make sure you have powers of attorney for financial and health care matters in place," he says. "Everyone over the age of 18 needs both of these documents." Also, have family members sign a HIPPA (Health Insurance Portability and Accountability Act) release, which will allow certain people access to health information.

Gift assets. The older generation needs to address estate tax issues. One way to do so is gifting assets, says Paul Neiffer, partner at Clifton LarsonAllen and author of The Farm CPA blog. The annual tax-free exclusion for gifting in 2014 is $14,000 per person. "You can gift cash, machinery, grain or shares of certain farm entities," he says. "This is a great way to help the next generation get skin in the game and reduce your taxable estate."

Don't wait on mom and dad. The hardest part of succession planning can be starting. "I often meet young farmers who would like to see older generations put a plan in place," says Minnesota attorney Shawn Vogt Sween. "You can't force anyone else to plan, so start with your own plans." 

Everyone will be relieved when a plan is in place. "Once you know the options available, the unknown of succession planning is more manageable," Vogt Sween says.