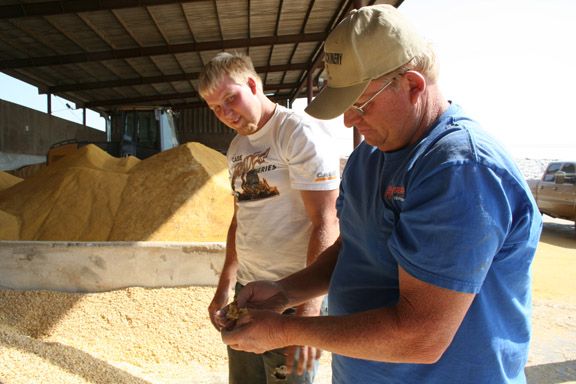 Five tips to manage the risks of yeast and mold in dairy rations.
Source: Prince Agri Products
Each new harvest season can bring changes in forage quality which can have a negative impact on dairy cow health and productivity. Because nutritive value, mold, yeast and mycotoxins can vary considerably from season to season and from bunker to bunker, producers are encouraged to proactively manage this transition.
"Variations in mold and yeast content lead to variations in fermentation profiles of ensiled feed, which in turn impacts feed quality," says Jamie Jarrett, Ph.D., a dairy technology manager for Prince Agri Products Inc. "Management practices for harvesting and processing forages, in addition to managing forages at feedout, can lead to significant changes in mold and yeast counts, nutrient content and digestibility. Ensiled forages tend to be a major contribution to the diet of the dairy cow, and proper cow health is a key issue in times of mold and yeast challenges."
Dr. Jarrett notes that a responsive immune system plays an important role in helping protect dairy cows as new crop forages are introduced this fall. "An immunocompromised cow does not have the ability to endure the same level of molds and yeast in feed as a cow with an optimally functioning immune system," she explains. "Because of unforeseen challenges that may arise, lactating cows require a fundamental level of immune responsiveness to avoid health challenges and maximize milk production during the forage transition."
Completely avoiding mold and yeast in a dairy ration is not practical, Dr. Jarrett says, but understanding and managing those inputs will allow producers and nutritionists to better manage the risk. Her recommendations include:
• Plan ahead by routinely taking inventory and estimating when major feed changes will need to take place.
• Test ensiled forages routinely. Mold, yeast and nutrient contents change over time. The ensiling process is still continuing in the bunker despite the fact that feedout at one end is occurring. Remember that silage dynamics in October are very different than they are in February or May.
• Pay close attention to quality issues at both ends of bunker silos, silage bags and drive-over piles, as appropriate.
• Transition cows from current to new forage during a period of seven to 10 days. Although this takes some planning, introducing a portion of new forage blended with the current forage allows cows to adapt to new forage – i.e., flavor, odor, etc. This also allows rumen bacteria to adjust to changes in nutrient supply.
• "Listen" to cows. Utilize current nutrient analysis, and consider mold and yeast counts (minimize inputs when possible) to re-balance rations. However, analysis on paper alone does not indicate how cows will respond. Continue to make directional adjustments as cows "tell" you what they need.
Certain nutritional supplements have been used to help support normal immune function when dairy cattle are challenged with forage quality variation. Dr. Jarrett notes that feeding OmniGen-AF® from Prince Agri Products six to eight weeks prior to major ration changes may help to minimize forage transition issues and therefore support the potential for increased profitability.
Prince Agri Products Inc. is a leading provider of high-quality trace minerals and nutritional specialty products that support nutrition for dairy and beef cattle, swine, poultry, aquaculture and companion animals.