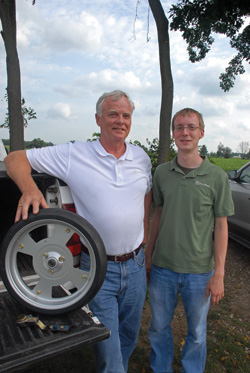 A new gauge-wheel design keeps planters debris-free
Necessity is known as the mother of invention—and farmers are resourceful when solving a frustration. That was Ron Hesla's experience when his wife inherited a 40-acre river-bottom tract near their home outside Wakonda, S.D.

The first spring Hesla planted the field, wet soil stuck like glue to his no-till planter gauge wheels and slowed the process to a crawl.

Determined to not repeat the experience the following spring, Hesla began tinkering with a gauge-wheel design. His son, Eric, a student at the University of South Dakota, entered a family business plan based on the design in the school's 2007 Extraordinary Idea Competition and won first place. That same year, he earned second place with the plan in the South Dakota governor's Giant Vision Student Competition.

The multiple successes, including five years of on-farm testing, convinced the father and son they had a practical product that other farmers could benefit from as well. The Heslas formally launched their business, Pro Mags LLC.

Eric says that several things about their gauge-wheel system differ from those currently in the marketplace. "The wheel is made of standard steel, but it has a bright silver finish that helps farmers readily see [from the tractor seat] whether the wheel is rotating properly," he says.
A clear coat of lacquer is added to the finish to prevent fading, chipping and rusting.
Eliminate debris. The gauge wheel has a low-slot perimeter that, coupled with the clear-coat finish, helps dirt and debris roll out from behind the wheel better.

"We realized it would be useful to have wheel slots extend as closely as possible to the outer-rim perimeter, in order to avoid a ridge which would further hold back field refuse," Eric says.

The gauge-wheel system is designed to work on all conventional seed planters and drills. The wheels are currently available in two thicknesses, 13 gauge and 11 gauge, both with a 4.5" width. While both are standard sizes, they are lighter in weight than similar products. No planter modification is required to use the Pro Mags gauge-wheel system.

"It takes about 15 minutes per row to install," says Kevin Gale, who farms 1,000 acres near Irene, S.D.

Gale bought the system because he had difficulty planting the rolling hills on his farm. Debris routinely got trapped in the corn planter wheels that came from the factory.

"Every little valley you'd drive through that was a little wet, my gauge wheels would all plug up. Now we sickle right through them, and that saves a lot of time and grief," Gale says.

As part of the gauge-wheel system, the Heslas designed a new universal scraper. It has a radial design that allows farmers to adjust the scraper blade to make contact anywhere along the edge of the opening disk.
Precise placement. The radial design is a first for the agriculture industry.

"Our system is designed to throw trash out of the slots of the wheels," Eric says. "Current scrapers just drop trash back down onto your furrows, and then your closing wheels have to drag through the trash. This scraper leaves a nice, clean furrow for your closing wheel."

Eliminating debris in the furrow is important, according to Farm Journal Associate Field Agronomist Missy Bauer. "We need to have good seed-to-soil contact to achieve uniform germination, so we must prevent trash or dry soil from falling into the seed trench," she says.

Farmers can prevent this problem by making sure the gauge wheel is set properly.

"What we want is to achieve true contact between the inside of that gauge wheel and the disk opener blade," Bauer says.

"To evaluate the contact, you can physically push the wheel up like it's in its running position and pull out on it at the same time to ensure there's no space between the gauge wheel and the disk opener," she adds.

The Pro Mags gauge-wheel system works with both metric and standard components. It retails for $396 per row, and some elements are available for purchase separately. For more information about the system, go to www.promagsonline.com.