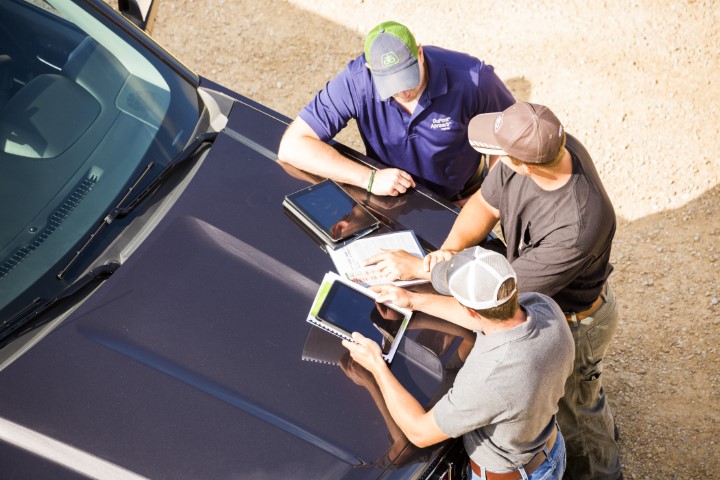 Team Approach to Planning Saves Money, Boosts Yield and Revenue
Every August for the past seven years, Ernie Potthast, farm manager for 7,000-acre Grandview Farm has met with his seed advisor, Kyle Brase, a DuPont Pioneer seed representative, to make a plan for hybrids, varieties and crop protection products geared to each field on the Marine, Illinois, farm, considering crop rotation plan, soil type, weed population, disease pressure and yield goals. Brase calls it "planning for success." Potthast says strategic planning with an integrated DuPont team of experts helps keep his balance sheet in the black.
Boosting Bushels
Knowing how to get more from chosen genetics can make a big difference in a year when low prices call for extra bushels to maximize return on investment. "When you've got corn that's doing 170 or 200 bushels per acre, a fungicide application can push yields to 190 or 220 bushels per acre," says Brase. A team approach is the foundation of the DuPont™ TruChoice® program, which helps growers get the products, local expertise and financial rewards they need to achieve their business goals. Brase employs two full-time crop scouts during the summer and throughout the year he works with the local DuPont Crop Protection technical sales agronomist, Wesley Shupe, to answer grower questions and find timely solutions to weed, disease and insect concerns. Shupe and Brase set the goal of helping each grower make the best agronomic decisions. With the broad DuPont portfolio of crop protection options, gearing a plan to each grower's business goals is simple, too. "It's a lot easier to make another $100 an acre through increased yield than it is to save $100 by skimping on crop protection," says Brase.
Findings Savings
Financial management is part of the crop production game and that's where TruChoice™ makes a difference. Thanks to consultation with his DuPont team, Potthast had his seed and crop protection products booked for 2017 by mid-August, which earned significant financial rewards. Through the TruChoice® Early Pay Multiplier*, growers who pay cash or sign a financing agreement for at least $25,000 in DuPont Crop Protection products by Nov. 30, 2016, multiply every crop protection dollar to gain a significant buying advantage when it's time to purchase crop protection products. "For example, if you commit $100,000 cash [by Nov. 30, 2016] for crop protection products you know you'll need, we put $113,636 in your account to spend on DuPont Crop Protection products," says Brase. "And it's flexible; you can purchase them now or wait until spring to decide what to order from any DuPont Crop Protection retailer." And with TruChoice® Advance, a grower can make those arrangements through his DuPont Pioneer seed agent as he selects seed and immediately apply a portion of the crop protection incentives to his seed invoice, to the tune of $8 off each bag of Pioneer® corn seed and $2 off each bag of Pioneer® soybean seed.
Focus on Harvest
With both seed and crop protection decisions made, Potthast says he could focus on harvest logistics, confident he had a good plan in place for the following season. And the farm's owner was happy, since he was getting substantial additional value from his crop protection input dollars. Brase, who farms himself, says he appreciates getting an upfront payment through the TruChoice® program that he can apply to his seed purchase, rather than waiting 10 months for a rebate like other programs. "It's outstanding to be able to help producers put together a crop protection program that works with their seed selections."
*See TruChoice® Early Pay Multiplier programs for terms and conditions. Always read and follow all label directions and precautions for use. Unless otherwise indicated, trademarks with ®, ™ or SM are trademarks of DuPont, Pioneer or affiliates. © 2016 DuPont.