Precise and Accurate Application
Raven's new pressure-based nozzle control system offers precise and accurate application across a sprayer boom. The Hawkeye system is fully integrated with the Viper 4 field computer and other ISOBUS-compatible virtual terminals, giving farmers a fully integrated system with less cab clutter. In addition to individual valve diagnostics, sectional shut-off and a system architecture designed for simple installation and operation, Hawkeye comes standard with turn compensation, which increases precision during sprayer operation. 

Larger equipment, diverse field conditions and a greater focus on input management have contributed to increased innovation in application control. "The pressure-based control capabilities of this system give applicators more accurate droplet size and more precise and consistent spray patterns across the board, in addition to drift reduction," says Matt Burkhart, vice president and general manager of Raven's applied technology division.
---
Aerial Capabilities Expand
Aerial Technology (ATI) is expanding its unmanned air system (UAS) to provide farmers with more tools to make cost-effective decisions. ATI is partnering with MicaSense, a firm that provides multispectral camera solutions and data processing to enhance mapping strategies and analytics. 

Walking the field to monitor crops is a time-consuming process that doesn't always allow a farmer to react to problems before it's too late or before the cost to fix the problem has soared. 

Using multispectral cameras, this application will capture videos and photos of crops remotely; sense different colors of light; and provide data processing, sensitive mapping strategies and analytics to determine crop vigor. The data will help farmers track the health of their crops, detecting irrigation problems, identifying pesticide spraying needs and assessing crop yields with enough time to correct issues before damage occurs. Livestock farmers are also using the technology to track cattle and other grazing animals' movements.
---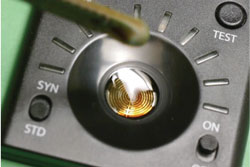 Oil Drop Savings
With five drops of oil and a Lubricheck oil tester, farmers might get many more miles or hours of use from their motor oil. In addition, Lubricheck might catch potentially expensive engine problems early. 

Lubricheck determines the condition of the oil by measuring acidity and also reacts to contamination from other sources. At less than $50, Lubricheck offers a simple and instantaneous test for all gas and diesel engines. A few drops of engine oil from the end of the dipstick placed on the peanut-sized sensor grid will result in a one to 10 oil rating. A rating below seven means the oil is OK; an eight or nine rating means change soon; and a rating of 10 means change immediately. 
---
$10 Million Expansion
PrecisionHawk, an information delivery company that uses small lightweight unmanned aerial vehicles (UAV) and cloud-based software to collect, process and analyze aerial data, has raised $10 million to meet the production needs of a growing clientele including Fortune 500 companies and education institutions. 

PrecisionHawk will nearly double its employee base and increase hardware production on its UAV platform and integrated plug-and-play sensor suite, which has more than 15 data collection sensors.