By Chris Bennett and Aimee Cope
John Deere Seeks Software Developers to Integrate Technology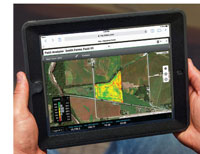 To be the preeminent platform in the agricultural industry, John Deere plans to integrate technology with independent software developers.

"We have been hosting developer conferences since 2008 in order for software developers to better interpret machine and agronomic data through our APIs," says Tyler Hogrefe, senior technical product manager. 

This integration ultimately opens the door for more software options for customers. Through their data management platform, MyJohnDeere Operations Center, customers can transfer, store, manage, analyze and gain insight from their data. The data platform also provides customers the flexibility to use other software programs and send data from the MyJohnDeere platform directly to a software application of their choice. 

"Using MyJohnDeere Operations Center means customers have access to John Deere tools and different software solutions," Hogrefe says. "We believe the integration helps unlock new potential and allows customers to make decisions with greater confidence."
---
Enhance Field Performance with Yield Maps
Yield Maps is a new tool enabling producers to import yield data into FarmLogs and subsequently analyze field performance at high precision. Heat maps automatically display the precise location of high and low output as a color-coded overlay on top of each field.

In the field, growers can check yield via smartphones and see their precise location on the map. Manual recording of field-specific yield is still available.

FarmLogs uses software and data science to make real-time field information available to farmers.

"The Yield Maps tool is a part of our continued effort to bring improved technology to the farm, to give farmers easy access to data whenever they need it, and to help farmers eliminate unnecessary data entry," says Jesse Vollmar, co-founderand CEO, FarmLogs. 

For more, visit https://farmlogs.com. 
---
Cab Control Options Improve Cattle Feeding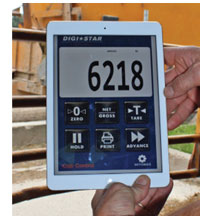 Digi-Star has four new options to improve the process of mixing and loading feed: the CCT 400 and CCT 500 touch screen units, External Radio Modems  plug-and-play and a Cab Control App. The new cab control includes options to manage feed ingredients, such as the ability to view ingredient weights and make adjustments to rations during the loading process.

The CCT 400 and CCT 500 make it simple to view and control mixer scale indicators from inside the loader by providing more mounting opportunities in smaller cabs, such as on skid steers and telescopic loaders. They also minimize view obstruction due to the compact design.

The External Radio Modems plug-and-play allows producers to add radio communication to existing indicators. The Cab Control App is the first of several new applications Digi-Star will release for smart devices. "The new cab control options from Digi-Star are easier to use, increase feeder accuracy and provide enhanced management control," says Chris Horton, Digi-Star product development manager.

For more, visit www.digi-star.com.