New Injector Pump Base Debuts
Agri-Inject has added several new features on the pump base used in combination with its fertigation units. The new base—the Nomad—will replace the previous Stealth base. It remains triangular in shape but has four handles, making it easier to move.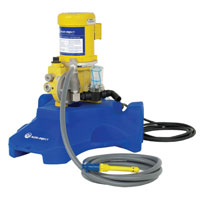 The Nomad base is compatible with nearly 95% of the product line without modification, whereas the Stealth base often required adapter brackets for different pump models. 

The control switch and wiring are now integrated into the base, which includes raised ribs around the switch to protect against damage or acci-dental activation. 

"We're now using a better grade of resin and molding the bases in-house, which gives us better control," says Erik Tribelhorn, CEO of Agri-Inject. "At the same time, we improved the internal geometry to make the base stronger. In effect, we tied the walls together, so there's no deflection or compression—even when we applied up to 500 lb. during testing." 

In addition, the base includes a molded channel that can straddle a 2"x 6" board, offering stability when attached to a pallet and providing the option of securing it to a wooden base.

For more, visit www.agri-inject.com.
---
Zoom In From the Sky
The X8-M and Aero-M drones offer accurate and repeatable aerial perspectives for farmers. 3D Robotics has introduced new 3DR Mapping Platforms—the 3DR X8-M (multi-copter) and Aero-M (fixed-wing)—with resolution that allows users to zoom in from the sky "down to the grape." Each platform includes a high-resolution visible-spectrum camera, auto-pilot controlled image acquisition and Pix4D image processing software. 

The flight planning software computes flight paths and calculates which pictures to take. While in flight, the drones capture the images and geotag each picture. As the drone lands, the user instantly has a series of accurate images that can be georeferenced by the Pix4D software to create a high-resolution, ortho-rectified 2D mosaic map or 3D model.

The X8-M offers low-flying, high-accuracy mapping. The Aero-M covers a greater area—up to 40 minutes and 250 acres of flight. Starting price: $5,400. For more, visit www.3drobotics.com/mapping-drones.
---
Line Acquisition Time Jump
Trimble has added OnSwath advanced line acquisition technology to its Autopilot automated steering system, which enables up to 50% faster line acquisition and reduces drive time. 

OnSwath enables the vehicle to make tighter turns and approach the next row 50% faster. It also decreases idle driving time, fuel consumption, soil compaction, crop damage and time in the field. It's a free upgrade for farmers using the Trimble Autopilot automated steering system.

OnSwath technology allows growers to customize their line acquisition to the vehicle, operation and operator preference, including adjusting turn angle, approach angle and speed. With OnSwath, the vehicle projects its path to the line, which allows it to get on line quicker.  

"OnSwath saves time, money and fuel, while also decreasing soil compaction and crop damage," says Erik Ehn, Smart Machines business area director of Trimble's Agriculture Division. "Since we're providing the technology at no additional cost, farmers who use Trimble's automated guidance can leverage OnSwath and measure how much it can save their farm."

For more, visit www.trimble.com.