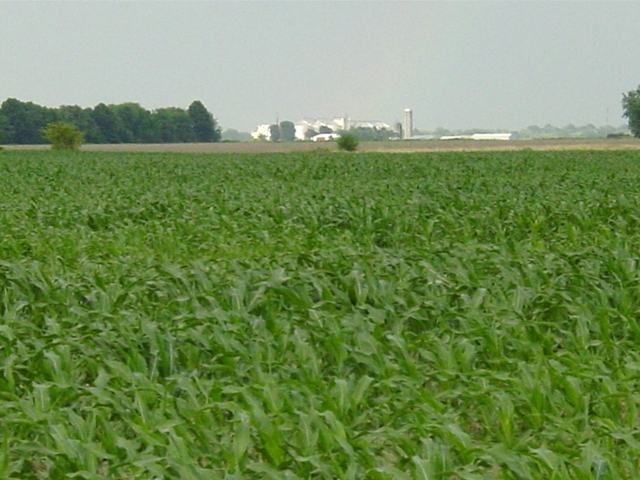 Rough ground and odd-shaped fields might increase the value
Farmers with modest row-crop acreages often fear GPS-based technology won't pay on their farm, observes Farm Journal Field Agronomist Ken Ferrie. But a Farm Journal study on two Illinois farms of different sizes suggests both can benefit from swath control and variable-rate technology (VRT).

"The issue is not size, but whether the technology fits your system," Ferrie says. "Weigh your investment—which might be modest, especially if you already have auto-guidance in your tractor—against per-acre yield increases and cost savings." 
 A Farm Journal study revealed seed savings  from eliminating overlap are most significant  on small and odd-shaped fields. 
Ferrie suggests evaluating technology by asking what one aspect, such as swath control, could do for your operation. Then think about other tasks you could do using the same controller. 

That's how Ferrie conducted his study, by first looking at the impact of automated swath control on 
Farm A. Then he studied VRT seeding and fertilizer application on Farm A and on a second farm, Farm B. With VRT, the farmers adjusted rates on the go using GPS maps of soil types and management zones. They used the same controllers for auto-guidance and swath control. 

In the first year of the study, Farmer A planted corn as usual. His as-applied maps showed he planted 1,394 acres. At the end of each pass, he stopped, raised the planter, turned around, lowered the planter and then took off on the next pass, attempting to minimize overlaps or skips on the headlands. 

Two years later (the next time he planted corn in the same fields), Farmer A installed automatic swath control on his 16-row John Deere 7200 planter. His system used air clutches to control two-row sections and was calibrated to minimize skip. The clutches were controlled by RTK GPS, which is capable of controlling individual rows or pairs of rows. (WAAS is a cheaper source of GPS signals, but swath control is limited to four or more rows.)

When planting was completed, Farmer A's as-applied maps showed he had planted 1,366 acres. Eliminating overlap saved him the equivalent of 28 acres of seed. "That amounted to 11.2 fewer bags of seed at $290 per bag, or $3,248 in seed savings," Ferrie says.
Seed savings were greatest on small odd-shaped fields.
Savings ranged from 0.2% on a rectangular 80-acre field with no waterways to almost 7% on a field laced with ditches and waterways to a whopping 23% on a tiny 1.5-acre patch. 

"Since he no longer had to stop on the ends, the farmer was able to plant more acres per day," Ferrie adds.

Swath control also impacted yield. "Using yield maps and ear and kernel counts, we determined double-planted areas on Farm A reduced yield from 6 bu. per acre to 67 bu. per acre," Ferrie says. "An average yield loss of 30 bu. per acre over 28 acres, at $3.65 per bushel, reduces income by $3,066.

Combining the $3,248 in seed savings with the $3,066 yield increase shows a total benefit of $6,308 from swath control. 

"Farmer A's fields also looked better," Ferrie says. "He was able to plant into and out of the headlands, raising the planter on the go, without worrying about skips or overlaps. It was easier to plant at night as well.

"With swath control, you can plant headlands last, if desired, and plant narrower headlands—for example, 36 rows instead of 48 rows, using a 24-row planter," Ferrie adds.

When he added VRT seeding, Farmer A averaged 32,450 seeds per acre, which is 3,550 fewer seeds per acre compared with his former flat rate of 36,000. Over his 1,366 acres of corn, Farmer A saved 60.6 bags of seed (3,550 seeds per acre) in addition to saving 11.2 bags by using swath control, for a total savings of 71.8 bags.
 Farmer A used variable-rate technology to  sidedress higher rates of nitrogen on areas of  high-yield potential.
Using VRT to sidedress nitrogen, Farmer A averaged 109 lb. per acre, compared with his flat rate of 60 lb. per acre. The increased nitrogen usage, 66,934 lb., resulted from applying more fertilizer on land with higher yield potential. He also saved 3,052 lb. of nitrogen by using swath control to eliminate overlap. So his total nitrogen application increased by 63,882 lb. 
Three years of comparing Farmer A's old method with swath control and VRT application showed the technology resulted in an average yield increase of 11.5 bu. per acre.
At $3.65 per bushel, that's $41.98. His cost increased by $9 for the additional nitrogen, so his income increased by $32.98 per acre.

Farmer B obtained even better results with VRT application because his fertilizer application resulted in less total nitrogen applied. Farmer B had been planting 34,000 seeds per acre on all his corn acres. With VRT, his seeding rate averaged 32,091 seeds per acre—1,909 fewer seeds per acre, or a total of 71.5 fewer bags of seed on 3,000 acres of corn. 

Thanks to VRT, Farmer B's average sidedress nitrogen rate fell by 26 lb. per acre, from 130 lb. to 104 lb. That saved him 78,000 lb. of nitrogen over 3,000 acres of corn. 

Farmer B's yield increased by an average of 9 bu. per acre, worth $33 at $3.65 per bushel. He saved $20.16 per acre in reduced seed and nitrogen cost, so VRT increased his bottom line by $53.16 per acre.

Applying the study's results to a farm with 500 acres of corn suggests swath control and VRT application is worth considering. "Many small farms include rough terrain, variable soil types and odd-shaped fields," Ferrie explains. "The more of these conditions you have, the more VRT technology will pay. 

"So, with swath control on 500 acres, let's use the savings from the roughest, most cut-up farm in our study—6.8%. That equals 34 acres of seed—14.5 bags at $300 per bag, or $4,350. Factor in a higher yield of 30 bu. per acre (the average from our study) from eliminating overlap and that's 1,020 more bushels of corn, worth $3,700 at $3.65 per bushel, or 136 tons of silage, worth $4,080 at $30 per ton. So $4,350 in seed savings and $4,080 in yield gain (for a silage producer) provides an $8,430 return to swath control in the first season of use," Ferry says

"The cost to set up an 8-row planter for swath control (including electric drive motors, vacuum blower, monitor/controller and GPS receiver) will run about $18,000," he estimates. "So, with an $8,430 return the first year, it will take two years to pay for the equipment if it is used only for swath control. 

"If you use the swath-control equipment to sidedress fertilizer, you will obtain additional savings by eliminating overlap. Or you could apply the additional fertilizer on areas with greater yield potential.

"If you obtain the average per-acre return from variable-rate seed and fertilizer application as we did on the study farms—$43 per acre—on 500 acres, that's another $21,500 on top of the $8,430 from swath control, for a total of $29,930. So the equipment would return $11,930 the first year and $29,930 after that," he says.  
Even if you use custom planting, knowing the value of swath control and variable-rate application might persuade you to hire a custom operator who has the technology, Ferrie notes.
The value of the technology is not reflected in most land-grant university custom-rate scales. 

If you decide to upgrade, keep these tips in mind:
Your system will be most efficient if you can use the same monitor and GPS receiver for all operations.
"Technology is no better than the company that services it," Ferrie says. "Shop not for the cheapest equipment, but for dependable service. A company that provides good service might charge more on the front end, but it will provide a higher return." 
You'll need help to implement the technology. Unless you plan to build maps and prescriptions yourself, look for a third party, such as a retailer or consultant, who can provide the information in an efficient matter. 
 The results in the table were obtained in a Farm Journal study on two actual farms. For any size of  farm, the key number to evaluate technology is the net return per acre.
   If the technology was used only for swath control, it would pay for itself in two years. If it also was used for VRT seed and fertilizer application, it could generate $11,930 in its first season.