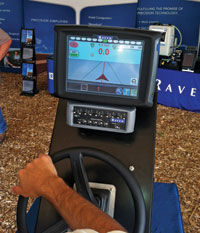 Raven Expands Its Field Computer Lineup

Raven Industries introduces the Envizio Pro XL to the company's lineup of field computers. This model runs on the Envizio operating system, and the user interface features an extra-large, brightly lit 10.4" color touch-screen display. Customers will like the improvements, says Matt Burkhart, vice president and general manager of Raven's Applied Technology Division.
"Some of our customers have given us feedback that they really like the simple-to-use interface of the Envizio Pro and Envizio Pro II field computers but would like to see it on a larger display," he says. "The Envizio Pro XL uses the same operating system on a bigger screen, which will enhance their experience when using products like our OmniRow advanced planter control system or OmniSeed advanced air-seeder control system."
The new model was available for purchase starting in September, with shipments in early 2013. To find out more, contact your nearest Raven dealer or distributor, or call (800) 243-5435.

Precision Ag Poised for Growth

Precision ag adoption is accelerating. Entira, a marketing and management consulting firm for food and agribusiness, is convinced the industry is on the cusp of a new paradigm. To track adoption and perceptions of precision ag, Entira is launching a study. "Consider these five signs that precision ag is getting in shape for the next big thing," says Karol Aure-Flynn, Entira senior associate.

1 Big announcements by precision ag businesses. "By their very nature, these companies are founded on innovation and big ideas," Aure-Flynn says.
2 Cross-company collaboration, compatibility and integration. AgGateway, a consortium of ag businesses and industry representatives, has been leading the charge in standardization efforts.
3 Rapid technology development. For consumers, seamless real-time data sharing has become the new norm, and tools such as the iPad are making new technologies easier to adopt.
4 Precision ag is on the radar of non-ag sectors. "High-tech publications like Wired and Popular Science feature ag technology, and national media like the New York Times and Wall Street Journal carry stories about developments in ag," Aure-Flynn adds.
5 Faster adoption of precision technologies and practices. "Some may not even realize they're
using it because the tools and systems have been integrated so well into regular ag practices that they no longer stand out," Aure-Flynn says.
AFS Software Adds Functionality
Collaborating with Farm Works Information Management, Case IH announced several improvements to its Advanced Farming Systems (AFS) software, including AFS View, AFS Mapping and Records, AFS Books and AFS Water Control. The upgrades give users access to a complete range of farming solutions right from their desktop, says Trevor Mecham, AFS marketing manager for Case IH.
AFS View allows you to track and manage data on a customized list of farms and fields. AFS Mapping and Records provides field record keeping and analysis of yield data, soil types, soil test results and hybrid performance. AFS Books integrates farm financial records so you can make easier cost comparisons. AFS Water Control is a tile and surface drainage planning and management tool.
"This software provides Case IH customers with the ability to mark field maps with obstacles, create yield maps, manage guidance lines and develop prescriptions based on those yields," Mecham says.