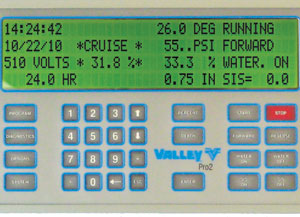 Valley Irrigation introduces its new Cruise Control software, which is designed to improve the accuracy of chemigation and fertigation practices through center-pivot irrigation equipment. With the patent-pending Cruise Control, producers can adjust the pivot speed to ensure more precise application of products. The software is now standard on all Pro2 panels the company sells. Existing
Pro2 control panels can be upgraded with the new software. Contact your Valley Irrigation dealer for more information or visit www.valleyirrigation.com.
---
New Section Controller Features
Leica Geosystems offers new features for its AS7500 automatic section controller. The most significant feature enables the user to record field inclusion boundaries and exclusion zones. These boundaries and zones can be used to control the auto-section shutoff to include or exclude designated areas, such as entire fields or waterways. The AS7500 section control compatibility has been expanded with support to allow for interface with the Amazone Amatron+ controller. This feature is now standard on all new AS7500 controllers at no extra charge, as with all other section control interfaces. A dedicated interface cable and installation manual is available to allow simple plug-and-play installations. For more information, contact a Leica Geosystems dealer or visit www.agguidance.com.
---
Clean Up Yield Maps
All yield maps contain some degree of error, which producers need to remove before analyzing the information generated by the maps. The new Yield Editor 2.0 is designed to address that challenge, says Ken Sudduth, ag engineer, and Scott Drummond, Internet technology specialist, with USDA–Agricultural Research Service's Cropping Systems and Water Quality Research Unit located in Columbia, Mo. The free, interactive software contains several filters that automate the data cleanup process and other tasks, eliminating what were once manual steps. This significantly increases the reliability of yield maps while reducing the difficulty of creating them, Sudduth says. The updated software is in the final stages of development and will be available for use by the end of September. For more information about Yield Editor 2.0, send an e-mail to Sudduth at
[email protected].
---
Enhanced Field Mapping Services
Pioneer Hi-Bred now offers comprehensive field mapping services and support via FIT Studio, an extension of FIT Services. The new program helps farmers fine-tune their corn hybrid and soybean variety selections, says John Chism, Pioneer services implementation manager. He adds that the new service provides a broad array of value-added precision agriculture maps and information, including historical and multiyear yield analysis tools, as well as more advanced features, such as variable-rate seeding functionality. Pioneer worked with MapShots, a software development company that specializes in crop management applications for agriculture, to develop the features of FIT Studio. Learn more about the new software program at www.pioneer.com.
| | | | |
| --- | --- | --- | --- |
| | | | |
| Yield Map | Yield by Variety Map | Split Planter Variety Map | Yield Difference Map |