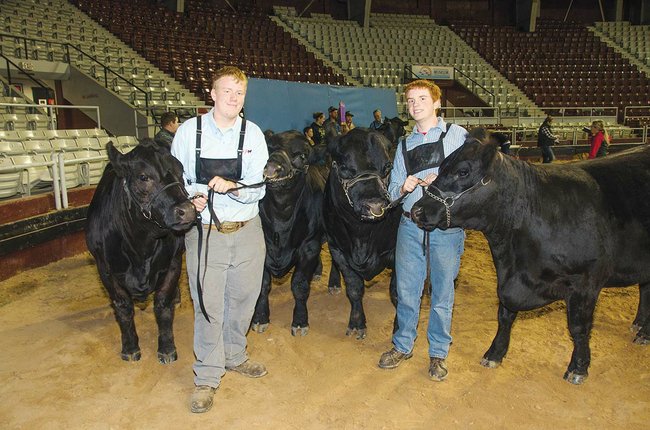 Wyatt Mosher and his brother Colte are serious about raising cattle.
While many young men their age may be into sports, video games or other activities, the Mosher brothers — Wyatt is 17, and Colte is 15 — are into raising and showing Limousin cattle. They have shown their cattle at the Pope County Fair, the Arkansas State Fair and at national competitions for several years, bringing home their fair share of plaques and ribbons.
Many in the Limousin cattle business may know the brothers' names, but few may know that Colte has undergone five surgeries — including four open-heart surgeries — in his young life. Colte was born on April 1, 1999, and "appeared to be a healthy little boy like the rest of my children," said his father, Steve Mosher. Steve and his wife, Natalie, also have two older sons, Derek, 26, and Jared, 25.
"We took him home with pride and joy, not realizing that this child would have such a drastic effect on our lives," Steve told the Arkansas Democrat-Gazette. "Everything went along as normal for the first month."
Steve said that on May 4, 1999, "Jared wanted Natalie to bring his baby brother, Colte, to school for 'show and tell.' They were so proud of him."
While Colte was at school, he broke out with a facial rash. Natalie took him to the family's pediatrician, who sent them to Arkansas Children's Hospital in Little Rock.
"After several tests, we were informed that our son Colte had a very complex heart malformation — truncus arteriosus — that required surgery very soon, or death would be imminent."
Colte said, "I was born without a pulmonary artery."
Information on the American Heart Association's website, heart.org, describes the condition as "when a person has one large artery instead of two separate ones to carry blood to the lungs and body."
Steve said the couple took their newborn son back home for a month, but his condition worsened. They arrived back at Children's Hospital on Memorial Day, and Colte's surgery was scheduled for the following Wednesday. Steve said the surgery would consist of "installing a Gore-Tex wall between the two bottom ventricles, installing a conduit from the heart to the lungs to replace the missing pulmonary artery."
Steve said complications arose, and the surgery had to be postponed. That was when Steve said he "put Colte in God's hands."
"God faithfully . answered our prayers. Everything went well with surgery, and Colte's heart was healed."
However, during the surgery, Colte's right pulmonary artery collapsed, and the surgeon had to install a stint.
"Again, God answered our prayers," Steve said.
Steve said the doctors had explained to him and Natalie that Colte would have to have surgery again to replace the conduit in two to six years.
Steve said Colte progressed and developed "as a normal little boy."
"The Lord made him all boy and then some. If you did not know that Colte had a heart condition, you would never guess it."
Two years later, Colte had a second surgery to replace the conduit, remove the stint and straighten out the left pulmonary artery, which was corkscrewed.
"Colte's second surgery was successful, and once again, the Lord answered our prayers," Steve said.
Colte had a third open-heart surgery to replace the conduit when he was 10, and when he was 11, he had a pacemaker installed to help regulate his heartbeat.
Colte's latest open-heart surgery occurred in December 2014 and was successful. Doctors once again replaced the conduit.
"I'll have to have it replaced as I grow," Colte said, adding that he hopes he doesn't grow too much more.
Colte has recovered from that surgery and is now back to his normal routine.
Wyatt and Colte attend Russellville High School, where both are honor students.
Wyatt is a senior and plays saxophone in the band. He is a member of the Pope County 4-H Livestock Club's Quiz Bowl.
Wyatt plans to attend Arkansas Tech University and major in mechanical engineering. However, he said Tech offers a nuclear technology program, and he may enroll in that.
Wyatt said he hopes to work at Arkansas Nuclear One, where his two older brothers and his mother work. Derek is an operator at the nuclear plant, and Jared works in security. Natalie Mosher, who has a master's degree in mechanical engineering, handles the licensing procedures at Nuclear One.
Colte is a sophomore at RHS. He is in the debate club and is taking an introduction to computer engineering class.
"I'm learning to fix people's computers and to write code," he said. "I plan to attend college and get a degree in computer engineering."
Steve said he and Natalie both grew up on cattle farms.
"I grew up on a dairy farm near Bentonville," said Steve, who is an area director with the United States Department of Agriculture Rural Development office based in Fort Smith. "I didn't show cattle. We had to make a living."
Steve said Natalie grew up on a beef cattle farm in Huntsville, where her family had 300 head of cattle.
The couple met in college at the University of Arkansas at Fayetteville, where he majored in agriculture business and she majored in mechanical engineering with an emphasis in nuclear energy.
Steve said both of their older sons "showed cattle but not as crazy as these two," Steve said. "(Wyatt and Colte) live it."
The Moshers own the London Limousin Ranch, which consists of 40 acres on U.S. 64.
Steve said Wyatt and Colte get up at 6 a.m. "on their own," every day, check on their cattle, eat breakfast and get to school. In the afternoon when they get home from school, they go straight to the barn and take care of the cattle until time for supper.
The Mosher brothers are members of the Arkansas Junior Cattlemen's Association. They participated in the AJCA's Thanksgiving Classic Show at the Northeast
Wyatt showed the grand-champion Limousin bull and the grand champion Lim-Flex (which is a cross between a Limousin and an Angus) bull. Colte showed the reserve grand champion Lim-Flex heifer.
During that competition, Colte was elected as an area vice president, a position Wyatt held for two years.
At the 2014 Arkansas State Fair, Wyatt showed the grand champion Limousin heifer in the junior show and the reserve grand champion Limousin and Lim-Flex bulls. Colte showed the grand champion Limousin heifer in the open show.
"I couldn't play sports because I get tired easily," Colte said. "Plus, I could not take any kind of blows to the chest. I developed an interest in cattle. I found something I could be really good at.
"For everything I can't do, there is something I can do."