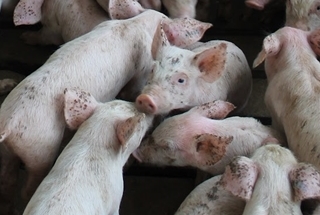 Officials have put another temporary hold on new permits for hog farms near the Buffalo National River in northern Arkansas.
It's the second moratorium placed on the permits for large or medium hog farms. The moratorium stems from a permit the state's environmental quality department issued for the C&H Hog Farm to operate, the Baxter Bulletin reported. Environmentalists have feared farm waste could taint the river, but studies have shown that hasn't happened.
Having the temporary suspension in place gives time for the Legislature to review future animal feeding operations in the Buffalo River Watershed. The hold can last for up to 180 days. The second moratorium extends the first one that was issued May 6, said Charles Moulton, administrative law judge for the Arkansas Pollution Control and Ecology Commission.
"We want a legislative review on this," Moulton said. "It's very rare for an agency not to want the input of the general assembly."
Minnesota-based food processor Cargill holds the contract on the hog farm. It has already self-imposed a moratorium on expansion of hog production in the watershed area.
The company also said that it has no plans to shutter or relocate its hog farm near Mount Judea, which is the largest in Arkansas.
Jerry Masters, executive vice president of the Arkansas Pork Producers Association, said the permit suspension has "virtually no impact on us." He said the C&H Hog Farm meets standards that are above what a permit requires and that the Environmental Protection Agency has recently visited the site and found no violations.
"C&H followed the law and has very good environmental standards," he said.