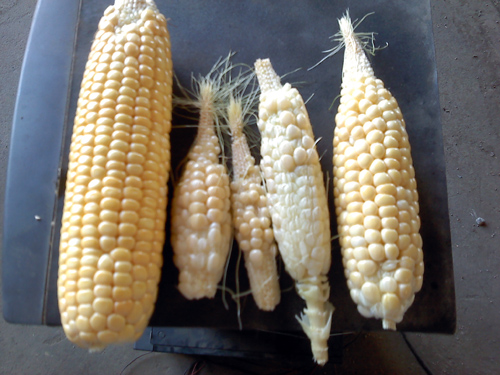 The 2012 drought is causing severe repercussions throughout the crop, livestock and energy industries.

The 2012 corn crop continues to shrink. Farmer and market expert Jerry Gulke says his own crop is nearly deteriorating in front of his eyes.

"I went out in my fields this week," says the president of the Gulke Group. "It was one of my fields that if you drove by it, you'd ask: what drought?"
 
He chose a random row and picked 10 cobs. The results weren't pretty. Half of the cobs were only half-filled with kernels.
 
"If I get 70 bushels to the acre, I'll be happy. There were enough stalks there for 200 bushels or more, until June's weather hit."
 
The depressing yield situation Gulke is seeing in his fields, is common across the country. So common, that Informa Economics drastically chopped their corn yield estimate on Friday. Its corn yield projection is now 120.7 bu./acre. However, the firm's is expecting a final national average yield of 131 bu./acre.

"The market tried to trade Informa's corn yield estimate on Friday. We were up about 21 cents in corn and closed above $8."
 
USDA Updates Yield Estimates
On Friday, Aug. 10, USDA will release its first survey-based estimates for corn and soybeans. Currently USDA's national corn yield average is currently 146 bu./acre. If they drop it down to the mid-120s like Informa, Gulke says we have a demand nightmare on our hands.
 
He says reducing feed needs, ethanol use and exports down to make Informa's 120 estimate pencil out looks like an almost impossible job.
 
Gulke says on a recent CNBC segment, it was reported it takes 3 lbs. of corn to put a 1 lb. of gain on a hog, 5 lbs. of corn to put 1 lb. on a cow and about five times as much to make a gallon of ethanol. "There's going to be a real push out there to do something about ethanol."

The general public, Gulke believes, is not going to want to see meat and food prices increase, at the expense of ethanol.
 
"If we allow ethanol to kill the livestock market, then we'll have to buy our demand back. It has some repercussions for quite awhile. I don't know how we solve this in the short-run, but I think we need to keep the pipeline flowing for the animals."
 
Not the Year to Store Grain
Gulke says he expects most farmers to sell their grain immediately this year, as opposed to storing.
"I'm going to harvest corn about three weeks earlier this year. If corn is still $8 out of the field, they'll probably get all of mine. If beans are still $16, I don't think I want to take the chance on storing."
 
The Next Round of Market Information
Gulke says Friday is bound to be interesting and the entire globe will be watching for USDA's estimates. AgWeb.com will have full coverage of the reports and a special early analysis piece with Gulke.
Listen to Gulke's full audio analysis:
 
For More Information
How do your crops look? Submit your report to AgWeb Crop Comments.
Visit AgWeb's Market Center.
Check your local forecast with AgWeb's Pinpoint Weather.
 
---