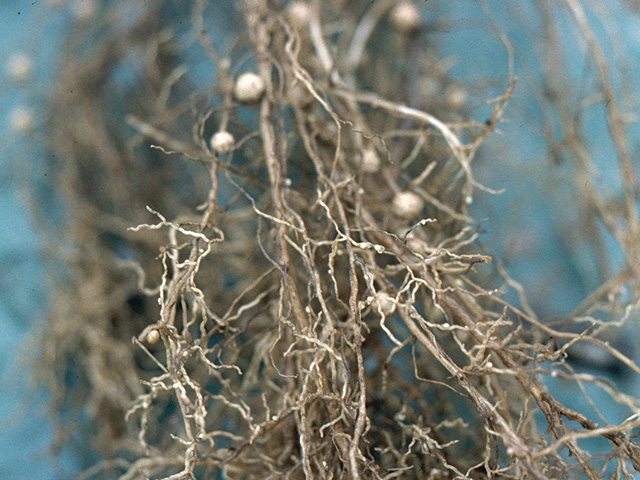 Harvest is prime time to check soybean cyst nematode (SCN) populations. The pest reaches peak numbers at the end of the season.
"The five long-suffering SCN states are Ohio, Iowa, Illinois, Minnesota and Missouri," says Greg Tylka, nematologist at Iowa State University. More recently, the pest has been confirmed in North Dakota so the western Corn Belt states need to be actively managing for the pest as well.
"While in general [genetic resistance 88788] doesn't work in Iowa, it does work for North Dakota growers," says Sam Markell, North Dakota State University Extension plant pathologist and professor. We're asking farmers to test soil samples, even if they don't see symptoms of SCN.
"You can have up to 30% yield loss in absence of symptoms," says Kaitlyn Bissonnette, assistant Extension professor at the University of Missouri.
Knowing where SCN thrives is key to control—and why it's critical to pull soil samples by management zone. Top of the list are sandy soils, high pH fields and low spots. SCN and sudden death syndrome (SDS) often go hand-in-hand. SCN injures the plant early, which can leave it more susceptible for the Fusarium pathogen in SDS.
The potential for yield loss is highest on fields that haven't been previously hit by SCN because there are no natural enemies, Tylka says.
The SCN Coalition and experts recommend the following best management practices for all fields:
Use genetics with resistance, including PI 88788, which has resistance in some states, or Peking.
"Seed treatments add some control, but many don't last the whole season," Markell says.
Crop rotation is important. Corn and wheat are non-host crops and can help decrease populations. It's still necessary to test fields after corn and before soybeans to verify SCN levels.
SCN tests cost $1 to $2 per acre, but some state soybean checkoff programs offer cost assistance.
"The economics of testing make sense—if it's $20 for a 20-core sample that represents 20 areas that's $1 per acre," Tylka says. "SCN has the potential to take 1 bu. or more per acre, so $1 is a minimal cost."