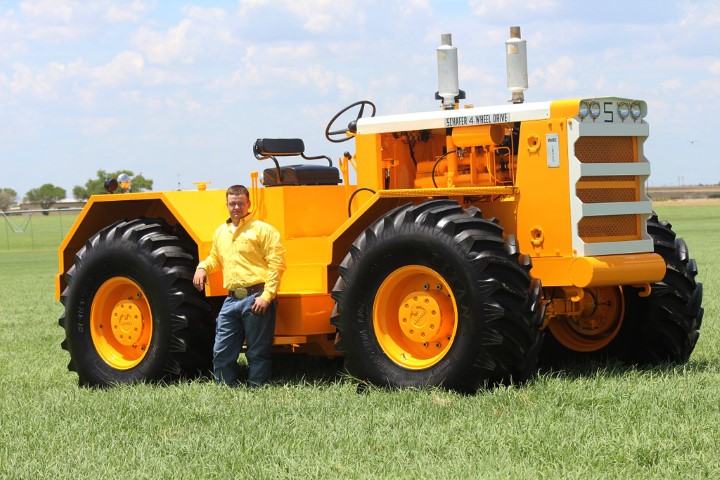 Chevron Products Company has named Cody Garrett as its grand prize winner of the 2014 Delo Tractor Restoration Competition. Garrett, a high school senior from Cuero, Texas, was selected for the $10,000 prize by a panel of expert judges after 12 finalists presented their projects at the 87th National FFA Convention in Louisville, Ky.
And with 17,486 votes, the Cuero FFA chapter was voted the winner of the best video competition, netting each Cuero FFA team member with a tablet computer.
"Every year, we are amazed by the accomplishments of each and every entrant," says Dan Holdmeyer, Chevron Lubricants industrial brand manager. "This year is no exception. This is a great experience for these students. Our participants learn an incredible amount during the restoration and competition process. Thanks to their determination, hard work and perseverance, their communities are able to enjoy these restored pieces of American history.
The full list of finalists included:
•         Cody Garrett, Cuero, TX: 1962 Schafer Model 18000 (Grand Prize Winner)
•         Ethan Haywood, Hastings, MI: 1954 Farmall Super H (Reserve Prize Winner & Best Presentation)
•         Matt Mahler, Iowa Park, TX: 1970 John Deere 4020 (Third Prize Winner)
•         Cuero FFA, Cuero, TX: 1968 Oliver 2150 (Best Video Winner with 17,486 votes)
•         Southwest FFA, San Antonio, TX: 1958 Oliver 880 (Best Photograph)
•         Luke Reilly, Atascadero, CA: 1956 John Deere 420 S
•         John Michael Grunseich, Bellevue, TX: 1971 John Deere 5020
•         Carlie Rembold, Big Timber, MT: 1953 John Deere Model R
•         El Campo FFA, El Campo, TX: 1954 Farmall Cub
•         Shane Kirts, Era, TX: 1967 Allis Chalmers 170
•         Scott Evans, Iowa Falls-Alden FFA, IA: 1946 Huber M120
•         Drake Davis, Crawfordsville, Indiana: 1962 Farmall 504
Since 1995 the Delo Tractor Restoration Competition has rewarded the determination, mechanical skills and business savvy of high school-aged tractor restoration experts from around the country. Through the restoration of an antique tractor, participants develop skills applicable to the modern business world. The skills needed for success in the program – equipment maintenance, teamwork, project management, budgeting, planning and marketing – help develop the participants into future leaders in the agriculture community.
For more information about the competition, visit www.DeloTractorRestorationCompetition.com.
Got a favorite tractor restoration story? Share your memories with us on this discussion thread.