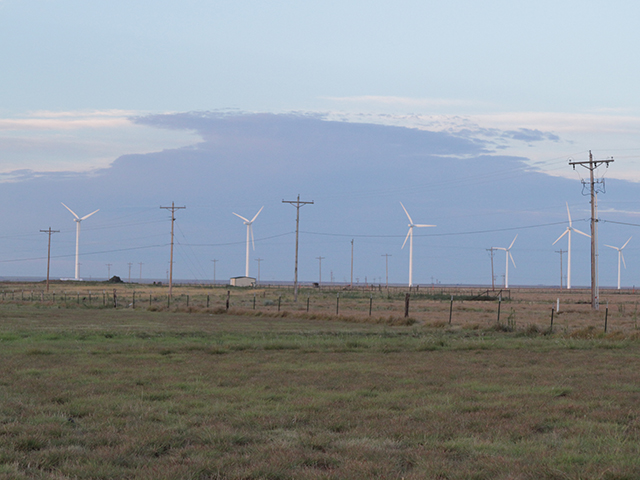 Texas rural land values rose again in 2016, marking six consecutive years of increases, according to data gathered by the Texas Real Estate Center (REC) and Texas A&M University. The statewide value of an acre of Texas rural land rose 5% in 2016 to an average value of $2,554 per acre—a record high. This follows a 1% rise in 2015. The 5% rise in 2016 results in a five-year annual compound growth rate of 6.7%.
On an inflation-adjusted (real) basis, the statewide ave-rage rose 3.5% to an average value of $444 per acre, again a record. The five-year annual compound growth rate on a real basis is 5.1%.
Texas rural land values peaked in 2008 at $1,914 per acre on a nominal basis and $374 per acre on an inflation-adjusted basis. Values declined through 2010 and then began to climb again in 2011. Prices have marked new highs six years in a row on both a nominal and real basis.
The trend toward higher prices continued into the first quarter of 2017, according to preliminary data from Charles Gilliland, research economist with Texas REC. Values are up 4.7% versus a year earlier and up 1.8% versus the fourth quarter of 2016 (see top chart).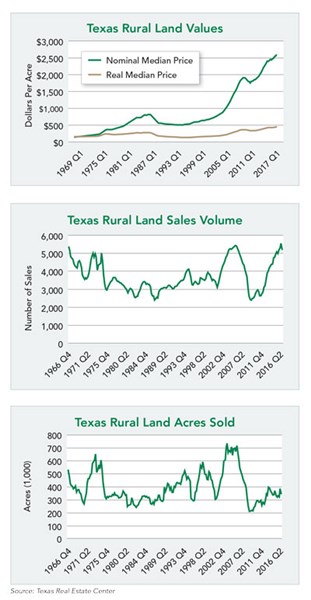 Values are higher in the Panhandle and South Plains region of the state, as well. This is the region most dependent on grain, cotton and cattle prices with little influence from energy prices. That area saw values rise 10.9% to an average value of $1,162 per acre and 9.2% on an inflation-adjusted real basis. This follows a 7% annual decrease in 2015 on a nominal basis and an 8% decline on a real basis.
The five-year annual compound rate is remarkable for the region, according to the data. The rate is 7.6% on a nominal basis and 6% on a real basis. These positive compound gains have occurred despite declines in 2013 and 2015. Farm managers and real-estate brokers in that area indicate dairies remain active buyers of cropland. As expected, the strongest demand is for irrigated cropland with good to average water. The low number of properties for sale is also a factor.
The total number of properties sold in 2016 rivals the level just before the price collapse in 2008, Gilliland notes.
Yet the amount of land sold has remained restricted compared to the quantity that changed hands in the 2003 to 2008 period. The current number of acres sold is 40% to 50% lower than it was during the mid-2000s. This underlines a change in the market with a sharp drop in the size of tracts offered for sale. Divestiture of timberland by wood and paper companies after 2002 contributed to some of those hefty acreage numbers reported in 2003 through 2008. But the total number of acres sold remains below the 1992 to 1996 and 1999 to 2001 levels.  
More land news is included in every issue of LandOwner Newsletter. Try it free here.