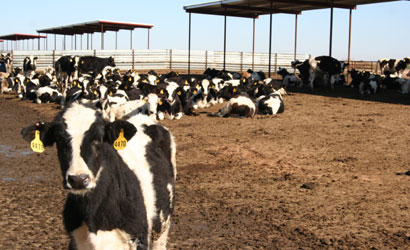 Texas' milk shed is big. The Lone Star State is responsible for nearly 4.8% of U.S. production. That's a 1.5% increase from 1999. The rise of the Texas dairy industry can be pinpointed primarily to one geographic region: the Panhandle.
"The state of Texas is similar to much of the country," says Darren Turley, executive director of the Texas Association of Dairymen. The eastern side gets more rainfall, so in the summer high temperatures and the humidity index make dairying a challenge. The further west you go the drier it gets.
That dry climate combined with cheaper land and communities supportive to animal agriculture made the Texas Panhandle an ideal location for dairies.
"You saw that migration out there basically because you could have a big footprint to draw out as big of modern dairy as you needed and be surrounded by farmland," Turley says.
The feedlot industry had recognized early on that cattle comfort could be easily attained in the Panhandle because of the moderate temperatures and dry climate. Feedlots also brought infrastructure to the High Plains of Texas.
"Because the feedlot industry was there first we had an excellent rail system. We were used to bringing in commodities from other parts of the country into that area and had the capability of bringing in enough grain," says Ellen Jordan, extension dairy specialist with Texas A&M AgriLife Extension.
Much of the success for agriculture in the Texas Panhandle lays underneath the ground in the Ogallala Aquifer that supplies ground water for irrigation and watering livestock. The only problem is the Ogallala's going down in areas of the High Plains because the aquifer does not replenish rapidly. There is just a slight amount of replenishment annually.
"With some of the drought we've had in the past few years across the state and the country we did remove more water from the aquifer," Jordan adds. "As we progress we see that our producers are being more and more efficient with their water use."
Dairy producer Larry Hancock moved to Muleshoe, Texas, in 1978 to start a dairy of his own. Moving from Arizona he was well aware of waters importance.
"When I moved there they said the water would last 30 years and that was 36 years ago. They missed it by a little bit, we still have some water," Hancock says.
Hancock milks 4,200 head of cows with his family. He's seen a shift in area producers growing more sorghum silages rather than corn because the crops require less water.
"When I first moved there I bought all local hay but we don't grow a lot of hay now for the same reason," Hancock says. For his operation Hancock buys alfalfa hay primarily out of Kansas and Colorado.
Being in a good business environment is also important. "Texas is business friendly," Hancock says.
Unlike many states Texas has no income tax. "I don't have to file so that's a big plus for me."
A major player in the proliferation of the Panhandle dairy industry is Hilmar Cheese Company, Inc. In 2007 the California-based company built a plant in Dalhart, Texas, to provide a central location with access to customers and markets, says David Ahlem, chief operating officer.
"It is a good place to dairy and produce milk which is essential to our operation," Ahlem relates. "Supply is growing in the region because it is a great place to dairy."
Eight of the top 10 dairy counties in Texas are now in the Panhandle.
"That area is going to continue to expand modestly, but nothing like the expansion we saw between 2000 and 2010. I would still expect to see 1-3% annually for the long-term," Jordan says.