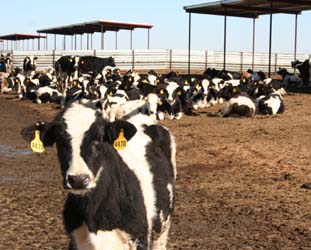 Investigation of the recently discovered disease continues in the Texas Panhandle; one California dairy producer recalls his herd's TB experience.
The two Texas Panhandle dairies which recently tested positive for cattle tuberculosis (TB) are owned by the same person, Darren Turley, executive director of the Texas Association of Dairymen (TAD), said today. 
The owner has not been publicly named by the Texas Animal Health Commissioner's (TAHC) office, which released the TB confirmation news Tuesday. Turley also declined to give the owner's name.
The TB was detected by routine slaughter surveillance of cull cows, TAHC Region 1 (Amarillo) Director David Finch told Dairy Today. "Epidemiological investigation is underway at this time to determine possible sources," Finch said.
The infected herds remain under quarantine. All preliminary herd testing for TB has been completed, according to Turley.  His organization has remained in close contact with TAHC.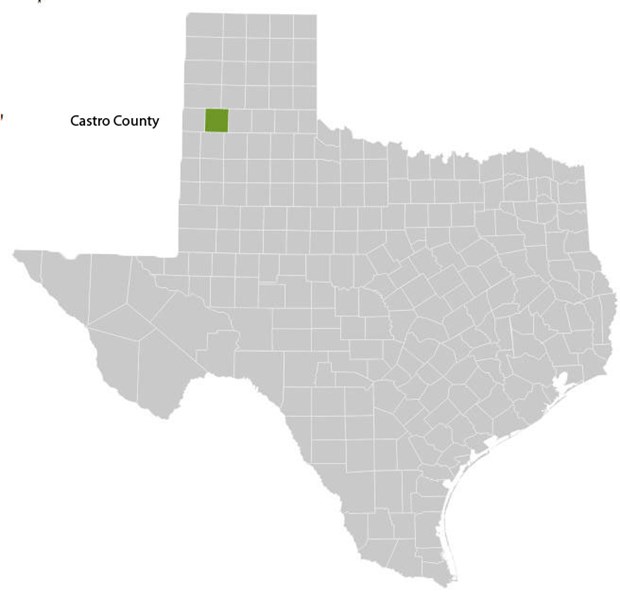 The two dairies are located an estimated 25 miles apart in a rural area west of Amarillo, Turley said. Cows in the affected herds are primarily comprised of the Holstein breed with some crossbreeds too.
Federal indemnity is available to help the dairy owner with potential financial losses, but the extent of that help will be determined by the epidemiological evaluation, said Finch.
Turley has concerns about the adequacy of indemnity funds. "Federal indemnity dollars are not there anymore," he said. "The option of a whole-herd buy-out would be quite slim" as a result of recent budget cuts.
Castro County, where the two dairies are located, is home to 13 dairies and 39,000 dairy cows. The average size of dairy herds in Castro County is 2,500-3,000 cows. Finch confirmed only that the two affected operations are "large dairies."
The Texas Panhandle has seen the state's greatest dairy growth since the mid-2000s, and it now produces 80% of the state's milk.  Castro County produces about 93 million pounds of milk each year, accounting for 11.35% of the state's production.
"The Texas Association of Dairymen is very concerned about the emergence of TB at two Texas dairies and its impact on the entire statewide dairy industry," Turley said. "Bovine TB is the most serious disease risk faced by the dairy industry because it can impact human health, animal health and marketability."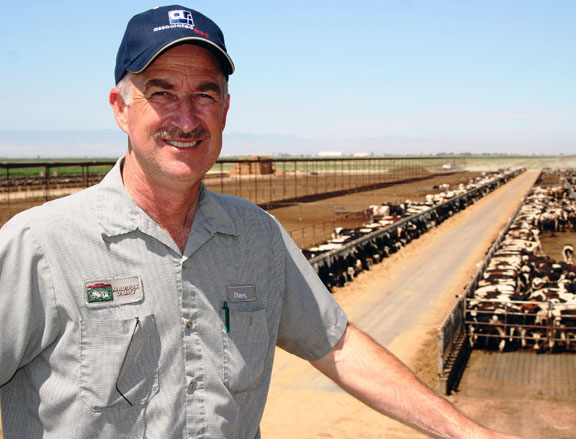 Steve Maddox's 2008 TB experience cost his California dairy millions of dollars.
California dairy producer Steve Maddox has an inkling of what the Castro County dairy producer is likely facing right now. In 2008, bovine TB was detected in his father's dairy herd of registered Holsteins near Riverdale, Calif. Officials eventually tested 15,000 cows on both family dairies, including his own operation because Maddox raised calves for his father. Ultimately, only a single animal was confirmed with TB.
"It's fear of the unknown," Maddox said today of what the Texas dairy owner may be experiencing. "We had so many questions because we didn't know the next step – whether we should contract milk or if we would even have a herd the following year."
Maddox estimates the TB experience cost him millions of dollars, including $2 million in lost revenues in breeding-bull sales alone. While he did not have to depopulate his herd, 664 head that were TB suspects did have to be killed. They included 100 head classified in the top 2% of breed for that type.  "I don't know how much that set us back genetically," he said. "They had to trace back sales of 13,000 animals, mostly bulls, over the previous five years. It impacted the whole West Coast."
The 2008 TB detection stunned Maddox, who thought his dairy was meeting all requirements to prevent the disease. "Despite all our safeguards, previous testing and resisting short cuts, we still got it," he said.
Maddox never learned the official cause of the TB detection that cost his herd so much. He suspects that it was carried to his dairy by an employee or visitor. He also believes officials in the state and federal agencies that handled the investigation have ideas about its TB origins through their DNA-tested trace-backs.  Maddox says he's been strongly discouraged by officials from publicizing his suspicions.  What he will say is, "Humans are potential carriers for bovine TB, but that can be turned into a political football."
There have been concerns that Mexico could be a source of TB for both cows and humans in the U.S., particularly in the southern border states. One in every five cows in Mexico reportedly tests positive for TB.