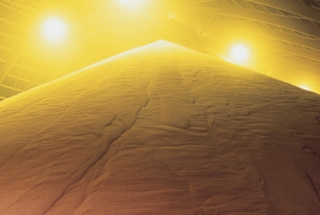 North Dakota is a unique place. Few other sites in the world encompass millions of acres of farmland in such close proximity to substantial deposits of oil and natural gas. North Dakota is now the nation's second-largest oil and natural gas producer, and natural gas accounts for around 75% of the cash cost of producing nitrogen fertilizer.
This unique advantage is why Northern Plains Nitrogen is making plans to build a large-scale fertilizer plant in Grand Forks, N.D. The project has a $1.7 billion price tag.
"We knew North Dakota was a nitrogen-deficient state," says Darin Anderson, president of the board for Northern Plains Nitrogen. This is due to the recent increase in corn and canola production in the area, along with new varieties of wheat require a higher quantity of nitrogen.
The plant will produce around 2,400 tons of ammonia per day. Anderson says they will produce all major nitrogen products—nitrogen ammonia, dry urea and liquid UAN.
Anderson says liquid fertilizer products will be a big focus.
"We think the demand for liquid fertilizer will increase as corn yields continue to go up," he says. "In our region, 10 years ago if you got 120 bu./acre corn you were pretty happy. You could do that with one shot of fertilizer. Now we are pushing 170, 180 to 200 bu./acre. You can't do that with just one shot of fertilizer."
If demand is rising for fertilizer products, why aren't more plants being built in the U.S.?
Anderson says the main reason is that fertilizer is a different product than what most savvy investors are used to. "Fertilizer production is more like farming," he says. "Some years you make money, some years you don't. You can't lock in your outputs for 10 years in a row."
Finding investors who will absorb that kind of risk is difficult, Anderson says. As a result, many of the project's investors are area farmers.
Fertilizer Price Outlook
So, will more domestic fertilizer production lower the price farmers pay for fertilizer?
Not by much, according to Anderson.
"When we first started this research project, we were hoping for increased supply and decreased price," he says. "Unfortunately that's not quite how it works. The reason we have the prices we do is because up until the last 12 months, farmers could afford higher prices."
Producers of nitrogen fertilizer will charge what the market will bear, he says.
Others agree. "Overall, the situation in 2014 appears similar to last year," according to Rabobank's quarterly fertilizer report, which was released this week. "With moderately bearish sentiment in [the first quarter of 2015], standard price support will originate from spring buying as stocks deplete.
The bearish outlook is a result of ample supplies, which are likely to limit the price growth for urea, ammonia, potash, and phosphates. 
Here's a timeline of the Northern Plains Nitrogen project:
2006-2012: North Dakota Corn Growers conducted a feasibility study on nitrogen fertilizer plants.
2013: Northern Plains Nitrogen announced project for facility.
2014: Permits sought from local, county, state and federal governments. Site development and engineering studies proceed.  Additional financial partners sought.
2015: Projected groundbreaking for facility.
2018: Production begins.
Read and watch more Top Producer Power Hour news and videos.