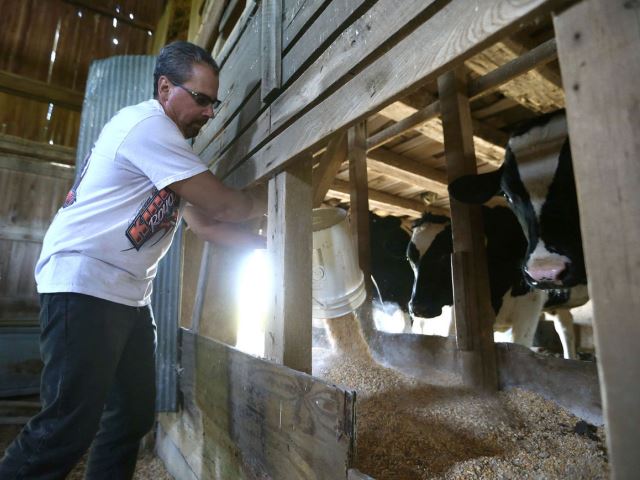 Call it meat with a mission. That's how Brian and Alan Mast see it.
Since 2008, the father-and-son team has raised cows that they eventually turn into hamburger.
That's the meat. And the mission?
All the beef is donated to Kokomo Urban Outreach to help provide meals to up to 1,000 local kids every Sunday evening.
Brian and Alan aren't cattle farmers, but that hasn't stopped them from spearheading the outreach, which has become known as the Cattle Project.
It was Alan who first came up with the idea of raising cattle and donating the meat. He was a 16-year-old sophomore at Northwestern High School at the time, and he had just spent a week volunteering in the food pantry at KUO.
It didn't take long for Alan to notice that the ministry included hardly any beef or pork with their meals, and he felt that was a problem, since eating meat provides essential nutrients like protein.
So Alan had an idea. Why not buy some cows, raise them, butcher them and then hand off the beef to the ministry?
"I didn't think it would be too challenging to raise some cattle for the outreach," he said.
After all, Alan already had a little experience dealing with cattle, since he had been working on a neighbor's dairy farm since he was 13. That experience had taught him, however, that it can be expensive to raise cows.
So Alan took the idea to the congregation at Howard-Miami Mennonite Church, where he attends, and asked for donations to get the project off the ground.
It was an idea the church took an instant liking to, and within a couple of months, members had donated enough money to allow Alan to buy two calves.
One of Alan's good friends from the church youth group had a barn a few miles from his home near Kokomo Municipal Airport, so the two cleaned it up and got it ready to house the two calves.
"It was crazy to see all the things come together," he said. "It was really a God thing. All the pieces just seemed to fit together."
For the next year, Alan visited his friend's barn every day to feed and water the cows. When they had grown large enough, the animals were butchered, and Alan was able to send around 1,000 pounds of meat to KUO.
That was in 2008. Since then, the Cattle Project has donated in total around 20 processed animals.
KUO Executive Director Jeff Newton said the outreach has come to depend on the annual donation, which has allowed the food ministry to grow by leaps and bounds.
He said before the Cattle Project, the ministry was providing just 100 meals at two different locations to families on Sunday evening.
But with more than 1,000 pounds of beef coming in every year, that number quickly mushroomed into 1,000 meals at 13 different locations around the city every Sunday.
Newton estimates each cow provides around 5,000 meals. Add up all the cows donated since the outreach started, and the Cattle Project has provided around 100,000 meals to kids and families in Kokomo.
"It's huge," Newton said. "That's what we count on to provide meals. It's a huge gift that affects tons of people. I'm not sure what we would do without it."
Now, the outreach has morphed into a kind of community-wide undertaking since Alan started it eight years ago.
His dad, Brian, took over the day-to-day chores when he left for college in 2010.
Brian, who owns Ace Automotive in Kokomo, is currently raising five calves, which are housed in a neighbor's barn during the winter, and put out to pasture in another neighbor's fields in the summer.
Not long ago, a local Rotary Club raised enough money to pay for the installation of new fencing around the barn.
When it comes to feeding the cows, Brian, Alan and other volunteers spend time every summer harvesting hay, which is grown on land owned by Alan's brother, as well property owned by the boss of Brian's wife.
And through it all, members at Howard-Miami Mennonite Church have consistently donated enough money to buy new calves every year and help pay for grain and other supplies.
Sarah Schlegel, a pastor at the church, said the congregation has embraced the outreach and made sure it succeeds. Every year, they hold a chili dinner, with all the proceeds going to the project
Last year, an issue with some of the cows prevented them from being butchered, so the church raised enough money to buy meat to donate to KUO.
"We really want to do what we can to help fight hunger in the community," she said.
Alan, who is now 23 and works for a poultry farm near Warsaw, said it's been neat to see so many people jump on board and do whatever they can to help with the project, such as donating trailers to transport the cows or filling in to do the chores when Brian is on vacation.
"We use so many different people who all donate different things," he said. "I knew the church would help, but the community support has been amazing. People help out wherever they can, and that's pretty cool."
Brian said it's that kind of support that keeps the outreach up and running, and without it, the Cattle Project would have stopped long ago.
"You realize you're doing good for somebody, and that's what motivates you," he said. "We don't realize the need in town. It's hard to imagine that so many kids in our backyards are needy, but they are. To know that we're making a difference . That's what it's all about."