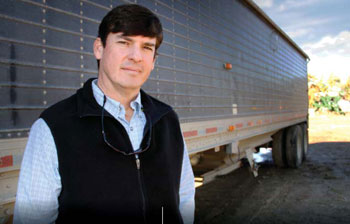 Arkansas producer maximizes efficiency on existing acreage
Jeff Rutledge believes in natural order—God, family and farming. Each morning, he wakes early, steals a few minutes for devotions and takes his children to school. Then Rutledge turns his truck toward Newport, Ark., where the fields have shaped his life. 

The fifth generation to farm the flat river-bottom ground of northeast Arkansas, Rutledge grew up pulling weeds and walking levees. 

"My dad would drop me off with a water jug in a field full of weeds," says Rutledge, 40. "He'd deliver lunch, and then, it was back to the weeds until dark."

Today, Rutledge might be CEO of a profitable farming operation, but he still operates as a boots-on-the-ground farmer, working beside a four-man crew across nearly 4,000 acres of silty loam and a scattering of stubborn blue gumbo. He typically maintains a rotation of two-thirds soybeans and one-third rice, with a little wheat and corn in the mix. 

Whether penciling marketing plans, rolling polypipe, planting or meeting with industry executives, each day is markedly different. Rutledge relishes navigating the waves of variation. He is conscious of and intentional about the land and his business, and he believes that makes all the difference between success and failure.

"It's always a challenge to figure out what's the right step, and I'm forced to look down the road at what to do 10 steps from now," Rutledge explains. "Making a plan is good, but nothing goes quite like you think it will."

A big part of the plan is Rutledge's rice and grain storage set-up. Rutledge thinks a producer without storage options lacks full control. He identifies timeliness, logistics and economics as factors that wreak havoc on a farming operation without storage facilities. Dedication to careful grain handling runs in Rutledge's family. His grandfather, Leon, built the Jackson County Grain Dryer in downtown Newport, well aware of the costs of stackburn—damage to rice caused by improper storage and lack of aeration. Stackburned grain can lose between 75% and 90% of its value compared with top-quality rice.
 
Better Storage Adds Value. From an early age, Rutledge knew conventional wisdom held that one lost bin of stackburned rice meant the loss of any bin advantages. Yet in 2009, he broke with tradition and built four bins. He added four more in 2012, confident in the value of storage.

Rutledge knew every bin needed a monitoring system to avoid damaging his grain. He learned about a 24-hour monitoring service called Integris and immediately put it to work. The automated system kicks on cooling fans with any increase in temperature and humidity. It also radio-links Rutledge's grain bins to his office computer and smartphone. "Regardless of my location, I can monitor my bins," he notes. 

Status notifications are sent via text message and email, and an annual subscription covers needed maintenance. When Rutledge put Integris on his first four bins, it cost him less to do that than to pay one person for one year to watch over those bins. If he adds bins, he'll use a grain monitoring service. "I won't build a bin without it," he says.

When rice come out of the fields, Rutledge reacts according to the markets. He sells some at harvest; delivers a portion to Riceland, which now owns Jackson County Grain Dryer; and stores some. Rutledge Farms also stores soybeans it grows for seed production. 
Bin-Based Marketing. Without storage to contain his entire crop, he would constantly need to balance drying and moving grain. "I used to be obsessive in watching the markets and had a marketing consultant," Rutledge says. "I also had a hedging line of credit, and it became somewhat of a lesson to me to stop trying to get ahead of the markets. I've had more success marketing out of my bins than using market strategies, puts, calls and hedging." 

Since construction of his eight bins, Rutledge says, he has consistently attained a better price holding grain until after the first of the year.

"Storage is another marketing tool, like options or hedging, with its own risks and advantages," he relays. "As for advantages, there aren't any margin calls. Instead of money spent for options that usually expire, it's being spent on a fixed asset with a long, useful life and the potential to capture carry in the market."

The money Rutledge put into his storage is bringing tangible returns. His business enjoys cheaper drying costs, better milling quality and less shrinkage. He's also seen a premium on milling on air-dried rice in his bins versus commercially dried rice. "There is also efficiency of not having combines wait in the field for trucks to unload and the fact that we can harvest as long as necessary without the burden of business hours when weather is pressing," Rutledge explains.

A heavy dose of dollars-and-cents reality informs Rutledge's farming decisions. If an operation is not a profit center, it must be shut down. He recently stepped out of a commercial grain-hauling venture because liability and logistical efforts outweighed convenience, especially the business was only breaking even.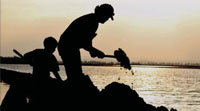 Arkansas producer Jeff Rutledge teaches his son, Ben, how to put levee gates in a rice field. 
Attention To Profitability. On the farm, Rutledge counts machinery as his biggest cost and a constant thorn for his operation. "I find myself in a nonstop process of looking at lease versus purchase options," Rutledge explains. "As far as trading, I only move when values are better than costs associated with repairs, downtime and technology upgrades."

The cost of machinery, repairs and insurance continue to climb, and Rutledge isn't optimistic this will change. As a result, he aims to use inputs as precisely as technology will allow. He began using variable-rate fertilization several years back and also uses chicken litter for fertilizer.

Rutledge employs the Pipe Hole and Universal Crown Evaluation Tool (PHAUCET) irrigation system to water more efficiently with polypipe. Already, he has purchased additional surge valves and equipment for monitoring the soil.

Because his farm neighbors the White and Cache rivers, Rutledge is able to irrigate crops from a water table close to 25'. His wells pump at 3,500 gal. per minute. 

Rutledge no-tills as much as his soil allows, depending on autumn precipitation. Ground rutted during a wet fall translates to more fieldwork the next year. "We only till what we have to and no more because it costs money," he says.
Love It Or Leave It. A humble demeanor underscores Rutledge's character. Yet he doesn't sugarcoat the challenges producers face. Farming can be extremely difficult, especially in light of government regulations, taxes and labor issues. "If you don't love this, don't do it. It will eat you up if you are a worrier," Rutledge advises. "I think that's why God gave me this profession, to trust Him all the more. I'm often a controlling person, but that's not farming. Farming is a world of variables with few cut-and-dried parts."

Rutledge is adamant that he is only one player in his farm's growth. He credits his wife, Amy, with being a pillar of his success. "If I didn't have Amy's help in every aspect of my operation, I couldn't get any of 
it done," he says. They have two children, Ben and Claire.

"This farm's success is not about me, and I'm so blessed on the land to have such a hard-working crew, sharp scouts and great Extension agents," he adds.

Rutledge might seem a contented man, but he keeps his eyes fixed on his land and never stops the process of refining farm management. 

"I'm not focused on scale for the future," Rutledge explains. "I plan to be more efficient with what I already farm and continue to add storage. There's always so much more to learn."

As a conscious farmer, Rutledge will continue planning for the future of his business while balancing spirit, family and farm.
To read an in-depth 2015 outlook for the U.S. and global rice crops from university specialists, visit www.topproducer-online.com
---
Farmer-Leader In Field And Industry
Rutledge Farms of Newport, Ark., has been in operation for decades, and fifth-generation producer Jeff Rutledge feels the comforting weight of history each day he farms. It explains why he takes time to give back to industry organizations and his community, both of which helped build that legacy.

When the fieldwork season is over, Rutledge's ag industry and commodity work begins. He is heavily involved in policy and promotion, and he serves on a variety of committees and boards for the Arkansas Rice Federation, the Arkansas Rice Council, the USA Rice Federation, the U.S. Grains Council, Farm Bureau and others. 

"Jeff is a young farmer with a modern view of agriculture and a great grasp on key policies in the agricultural economy," notes Ben Noble, executive director, Arkansas Rice Federation. "I have a hard time understanding how he balances all the roles he plays. It's not just the day-to-day operations of his farm, but he spends a great deal of time interacting with others about different grain crops. He keeps his finger on the pulse of what is coming down the track that not only impacts his farm, but other American farmers as well."

Whatever he does, Rutledge is committed all the way, adds Steve Eddington, vice president for public relations, Arkansas Farm Bureau. 

"That applies to his farm operation, but also to his family and church," Eddington explains. "When his commitment is thrown on top of intellect and natural ability, it translates to a great combination for the agriculture industry. He sets a standard for what people want in a farmer-leader." 
---
Business Lessons From The Rice Market
Although less than 2% of the world's yearly rice supply is produced here, the U.S. represents the globe's fourth-largest rice exporter, according to the USA Rice Federation. As such, corn and soybean producers can learn valuable lessons about margin management from rice growers. "Rice is a crop that requires intense management and more decisions than the other two," says Johnny Saichuk, rice specialist, LSU AgCenter. "Rice is an expensive crop to produce with inputs near $1,000 per acre being common. The need to grow rice in water presents problems and limitations not found in other crops even if they are irrigated. Water supplies in the future will become increasingly critical and could limit acreage in some parts of the country."

Rice marketing shows the value of strong relationships. "Even though rice is listed on CBOT very little rice is actually traded there," Saichuk explains. "Most contracts are negotiated between millers and growers or between commercial rice driers and growers. In the past few years, there have been more advance contracts offered than in many previous years. This was especially evident this past year when a lot of medium grain rice was contracted prior to planting."